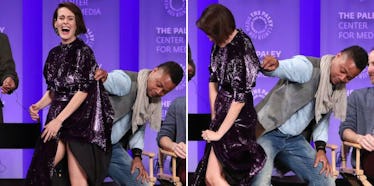 Cuba Gooding Jr. Lifted Sarah Paulson's Skirt And Twitter Immediately Lost It
REX/Shutterstock
Cubaaaaaaa!!! Whyyyyy, Cubaaaaaaa??? Nooooo Cubaaaaaaa!!!
There are so many great, silly ways to bullshit with friends and colleagues. Pulling up their dress during a PaleyFest panel just isn't one of them.
Cuba Gooding Jr. yanked "American Horror Story: Roanoke" co-star Sarah Paulson's dress toward the heavens -- you know, where Jesus lives? -- during a panel at the annual television festival at the Paley Center for Media in Los Angeles.
Cuba's dress-lifting bit appeared to arrive entirely out of left field and, though he seemed to be joking and Sarah eventually joined in on his laughter, fans online are not having any of it.
Even if ol' Cubes was just kidding around, his behavior is pretty difficult to defend. Without Sarah's knowledge, he took major liberties with her body and her privacy in a public forum.
Regardless of how she reacted -- and remember, this is a trained performer in front of a sea of fans and cameras -- Sarah maintains final say on when her dress gets lifted and, odds are, that stage was not her first choice.
Sarah is returning for season seven of Ryan Murphy's spooky series and, should Cuba come along too, he'd better keep his hands on his own damn dress.
In a recent interview with E!, Ryan confirmed Sarah and co-star Evan Peters are slated to return as leads in the upcoming season, which will have a "modern" setting and possibly tackle the recent abomination that was the election of the 45th president of the United States.
He told the site,
It's very scary and very fun and very… topical. Anybody who voted in the last election will very much enjoy what it's about.
Funnnnn! If there's anything America wants to relive, it's the 2016 election, amirite?
Ryan stayed pretty tight-lipped otherwise, telling E!,
Evan Peters and Sarah Paulson are the leads [of season seven]. But they don't know who they're playing… It's a modern story is all I'll say. We just started back in the writers' room for that.
Fans can expect "AHS's" new season to arrive "around Labor Day," which is a bit earlier than past seasons have premiered.
Fingers crossed we get to see Kathy Bates transform into some undead version of Trump.
Citations: Twitter Erupts With Outrage When Cuba Gooding, Jr. Lifts Sarah Paulson's Dress Onstage (Perez Hilton)