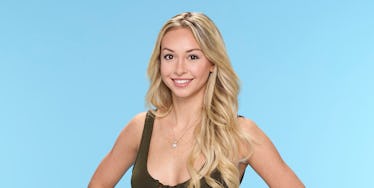 Corinne Olympios Says If She'll Return For The 'Bachelor In Paradise' Reunion
(ABC/Mitch Haaseth
After the scandal and outrage of the incident that paused filming on season 4 of Bachelor in Paradise earlier this summer, the question was whether Corinne Olympios and DeMario Jackson would be returning for the reunion special at the end of the season — where they might have to face each other down.
Well, the answer to that, is — yes. Olympios confirmed on Wednesday that she would be attending the reunion, according to Entertainment Weekly. Olympios told Elite Daily via a representative,
I am very happy to be appearing on the Bachelor In Paradise Special.
Her statement comes the same day that the new season's premiere date was announced. Jackson, for his part, confirmed his reunion attendance last week.
Whether or not the pair would attend was up for debate, after an alleged incident between the two which halted filming.
On June 4, the two allegedly had a sexual encounter with questionable consent. When concerns were raised, production on the show was stopped while Warner Bros. conducted an investigation into the incident. The investigation found that evidence did not support allegations of misconduct, and no charges were filed. Warner Bros. said in a statement that the videotape of the incident, which was caught on camera, would not be released in order to respect the privacy of those concerned.
After the incident, both parties lawyered up, and Olympios was blamed for the situation on social media.
After the investigation was concluded, she declined an invitation to return to production, saying that she was "extremely grateful for the opportunity" to be a participant on the show.
My team's investigation into this matter has now been completed to my satisfaction.  I am also happy about the changes that have been made to the production of Bachelor In Paradise.  While I am extremely grateful for the opportunity to have been a participant on The Bachelor, and while I was invited to return to Bachelor In Paradise when production resumed, I respectfully made the decision not to return.
Jackson, who also did not return, has reportedly expressed surprise at the way Olympios reacted to the incident and expressed interest in talking to her about it.
But if the two do come face to face, it seems unlikely to be explosive.
Jackson told TMZ that the ball is in Olympios' court to decide what she's comfortable talking about.
I'll wait for her to do it. If she wants to come up to me, we can talk on camera. We can talk offline. Whether it's there or in the future, 10 years from now.
We'll have to wait and see.