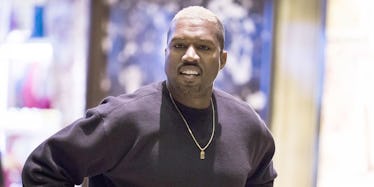 This College Class On Kanye West Will Make You Want To Transfer Schools
REX/Shutterstock
In a time of such divisiveness, it's extremely important to find common ground.
And I think the one thing that everyone can agree upon is the fact that Kanye West does not need anything else to blow up his ego.
However, he has had a very tough past few months, with his wife getting robbed and his own hospitalization.
And it might do him some good to learn Washington University in St. Louis is now offering a class on his extensive body of work, under its Women, Gender and Sexuality Studies department.
This class is called "Politics of Kanye West: Black Genius and Sonic Aesthetics," and according to the St. Louis Post-Dispatch, 75 people are enrolled in it, with even more on the waitlist.
Associate Professor Dr. Jeffery McCune told the Post-Dispatch,
I've always wanted to teach a course looking at black genius and the impossibility of black genius for the American public. We're always thought of as maybe being articulate or smart but not really genius
The class won't criticize or praise the artist (because he does enough of that himself), but instead will feature an in-depth analysis of the artist's public image, focusing on his relationship with Taylor Swift, listening sessions and "hip-hop's queer love languages."
The past year was a big one for the mogul: He released his seventh studio album, unveiled his fashion line YEEZY Season 4 and began, then canceled, his US tour.
Mr. West has been very active.
Yet some of his more interesting moments had nothing to do with his career. Most of his time in the spotlight was spent dealing with the politics he claims to hate.
The class aims to look at "politics, race, gender, sexuality and culture" through his actions and the larger implications of it all on American culture.
Considering Kanye recently met with President-elect Donald Trump, and plans to run for president in 2024, I'm sure the class will have a lot to talk about.
Citations: Header_share_logo.v2 269 Share on Facebook Share on Twitter Watercooler Like Follow Follow Washington University students can now take a class on Kanye West (Mashable)