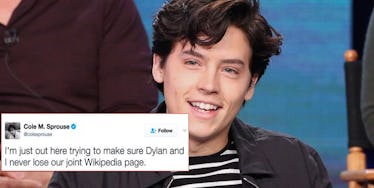 Cole Sprouse Has A Low-Key Hilarious Twitter And We Need To Talk About It
REX/Shutterstock/Twitter
Are there more pressing issues affecting mankind right now than the quality of Cole Sprouse's Twitter presence? Shut up. No, there aren't.
America is one big Triangle Shirtwaist Factory fire and none of us are getting out alive, so we might as well spend our final days drooling and giggling into the dim light of our stupid phones.
If you're not already a fan of Cole Sprouse from his new show "Riverdale" on the CW or his work alongside twin brother Dylan in the Disney Channel series "The Suite Life of Zack & Cody," what is wrong with you? Why don't you like anything pure and good?
Take this opportunity to get to know baby boi a little better and, if you're feeling confident by the end of this roundup, take this flawless Cole quiz I created with my own two spider hands.
Cole knows romance.
Cole knows English.
Cole knows commitment.
Cole knows who to ask.
Cole knows what time it is.
Cole knows self-esteem.
Cole knows style.
Cole knows marketing.
Cole knows the Texas Revolution.
Cole knows how to pay his debts.
Cole knows beauty.
Cole knows the difference.
Cole knows birds.
Cole knows casual.
Cole knows softboys.
Cole knows women.
Cole knows literature.
See? I frickin' told you. Cole is a precious pearl in a massive tank filled with tiny clam poops.
He deserves better than the world as it currently exists, but settles for it every day regardless of that sad fact, perhaps because time travel doesn't exist.
Maybe, though, Cole Sprouse loves us -- the plebes -- enough to stick around even in the event time travel is invented in a way that accounts for the risk of transporting modern bacteria back to a historical era when it could very well curse our ancestors with some horrifying super-plague.
Maybe.