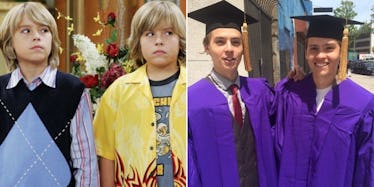 Zack And Cody From 'The Suite Life' Graduated College And We Feel Old
The eponymous kids from Disney Channel's "The Suite Life of Zack & Cody" aren't kids anymore.
Cole and Dylan Sprouse are all grown up and just graduated from college.
The twins received their diplomas yesterday while clad in purple robes for their commencement ceremony at New York University. Congratulations, guys!
It's unclear what Cole and Dylan will go on to do now that they're college graduates, but it doesn't seem like acting is in their futures, at least at this juncture. To wit, Cole majored in archaeology.
Here are some photos of the dynamic duo on their big day:
Look at these college graduates.
These guys still have a pretty sweet life.
We just graduated! Dylan bit me right after the last pic. #NYUpic.twitter.com/xTb8g1YNW6 — Cole C. Sprouse (@colesprouse) May 20, 2015
Here's some more proof these two graduated from university.
Good luck in the real world, gentlemen.
Citations: Zack And Cody Have Graduated From College (BuzzFeed)