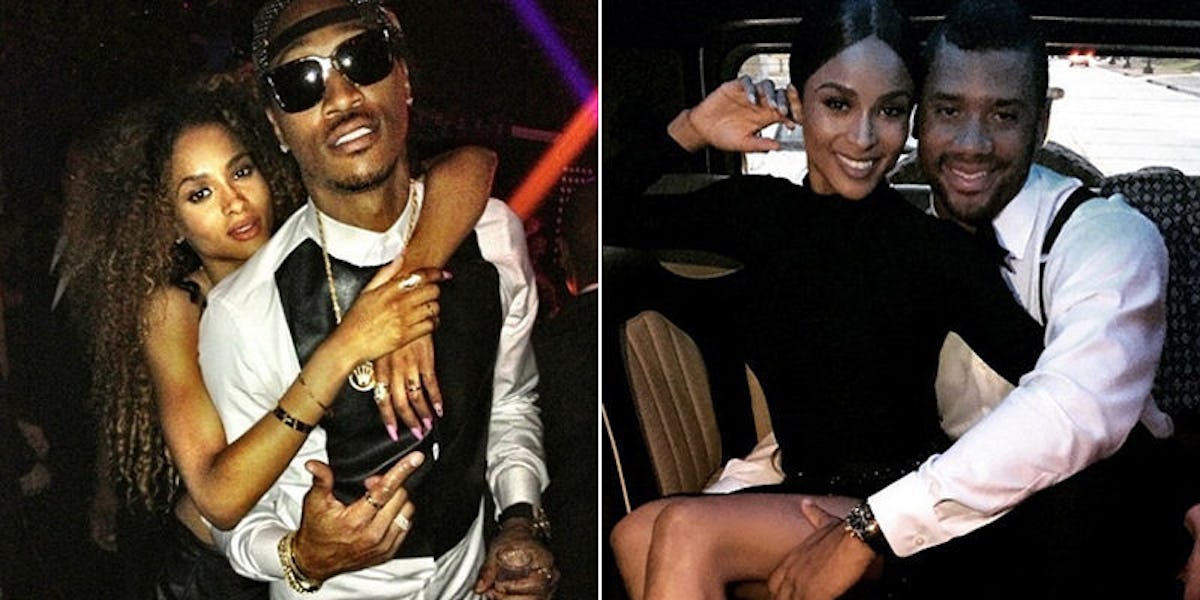 Battle For Ciara: Future And Russell Wilson Could Not Be More Different
Instagram
Ciara has been one of the baddest women in the game since she dropped "Goodies" back in 2004.
While dudes have always been trying to get at it, she's been very selective in the types of guys she dates.
They either have to be straight-up gangsters or Super Bowl-winning quarterbacks. No in between.
Her ex-boyfriend, Future, and current boyfriend, Russell Wilson, couldn't be any more different.
And while their love triangle is getting complicated, considering Future has a child with Ciara, it's important to remember Russell Wilson reportedly hasn't even hit it yet.
Let's take a closer look at what the f*ck is really going on.
Ciara has been dating Seattle Seahawks quarterback Russell Wilson for about three months.
But just last year, she called off an engagement with long-time boyfriend, Atlanta rapper Future.
The two have a child together named Future Zahir Wilburn.
And this recent picture of Russell Wilson pushing the baby in a stroller is causing some controversy.
Future fired back and said, "If I was a kid, and my mom had a dude pushing me, I would've jumped out the stroller and slapped the sh*t out of him."
Russell says he hasn't had sex with Ciara yet, saying God told him to wait.
But Future told HuffPo Live that God didn't tell him to wait for anything. He also said Ciara made them pray after sex.
However, if there's one thing clearly for certain...
It's that these two men couldn't possibly be any more different.
The ideal date for Russell and Ciara is visiting the Children's hospital in Seattle.
While when she was Future, Ciara was probably getting turnt at the club.
Or keeping it private on a low-key vacation together.
With Russell Wilson, she's in the spotlight even more, like when they visited the White House together...
And she was even by his side when he hosted the Kid's Choice Awards.
At 31, Future is a rockstar who has worked with some of the biggest legends in the game.
At 26, Russell Wilson is already a champion, but f*cked up so hard in the last Super Bowl.
He's one of the most humble and hardest working athletes in all of sports...
And always gives back to the community in every way he can.
Future, on the other hand, is always making music and getting money.
And, of course, he's always drinking something out of his styrofoam cup.
These two were once madly in love and almost got married.
Future even wrote a song about her, featuring Kanye West, called "I Won."
Now, Ciara is the one writing songs about Future...
And throwing shade on Twitter.
Some Person Is So Dishonest and Ignorant That They Don't Deserve A Response. — Ciara (@ciara) July 14, 2015
Furthermore, One's Main Focus Should Be On Being A Good Parent. — Ciara (@ciara) July 14, 2015
It's got to hurt Future when Ciara is posting this as her #MCM.
They're so boo'd up that Russell Wilson is returning the favor.
Future can only keep drinking some dirty Sprite and dropping fire music.
Will Russell be able to forget that Ciara is really a Tom Brady fan?