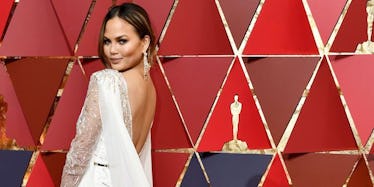 Chrissy Teigen's Oscars Red Carpet Hack Will Definitely Gross You Out
REX/Shutterstock
Chrissy Teigen burned a hole straight through her thigh, so buckle up, because we're both about to watch her rip a Band-Aid off that sucker.
The queen of social media snark and looking flawless while cooking chicken had some bizarre red carpet prep for Sunday's Oscars, including burn management.
Chrissy snuck fans a peek of the bloody burn hole lurking under a Band-Aid on her leg. She told Snapchat followers,
I have a pretty bad burn on my leg, right where my slit is on my dress.
Luckily, Chrissy's pals know all the best burn-related survival tricks.
She said,
Christine is using milk of magnesia to... I don't know, honestly. Do something... No one will ever know.
Naturally, Chrissy ended up looking like a shimmering angel from glamour heaven.
On the red carpet, John Legend stepped back and watched his wife with the kind of look in his eyes most of us reserve for a bagel buffet or any backyard pool with a slide.
Chrissy and John have long been considered everyone's ultimate #RelationshipGoals, but the Sports Illustrated model recently told People anyone thirsting for a marriage like theirs needs to take a seat from time to time.
She said,
I do think it's kind of silly. I love being that way because I love people looking up to somebody who has a relationship that's enviable, of course. But also, the things they say it for are so stupid, like, we'll be eating a burrito and someone will be like, 'Relationship goals!' and I'm like, 'Go get a burrito? Just eat a burrito!'
So true. If single life taught me anything, it's the power burritos possess to find us in our loneliest moments and remind us life can be lived successfully alone.
One day we'll each find our John (or Chrissy) to eat hot meat tortillas with, but until that day comes, we hoover those precious Mexican bundles solo.