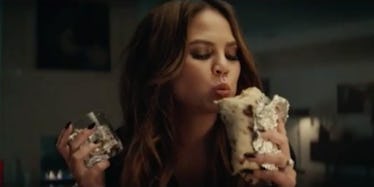 Chrissy Teigen Wolfing Down Burritos Is All Of Us After A Night Out
Instagram
Chrissy Teigen continues to be the greatest person on the face of the planet.
From crushing Sports Illustrated photo shoots to being Mom of the Year for her daughter, Luna, the 31-year-old Teigen can literally do it all.
For her latest trick, the Sports Illustrated Swimsuit model starred in a new ad campaign for Smirnoff vodka.
The best part? Teigen is in the commercial with her mom, Vilailuck Teigen.
Wednesday, the 31-year-old posted a behind-the-scenes video from the commercial, and it's without a doubt the funniest thing you'll see all week.
Yes!
In the clip above, Chrissy Teigen burps, cracks jokes, spills Smirnoff vodka and, wait for it, eats the crap out of a burrito.
Chrissy's mom is so cute!
But, we can't lose focus of the big picture, here: This is the sexiest way I've ever seen someone wolf down a burrito.
Simply the best!
To caption the above Instagram video of the behind-the-scenes clip, Chrissy wrote,
Guys. It's official. I'm in a relationship with @SmirnoffUS! I could have gone for a fancy vodka, but I didn't. I chose one that keeps it real instead. Smirnoff is actually a really great tasting vodka, and they aren't afraid to be a little unfancy sometimes. Samesies. Take a peek behind the scenes with me and my mom @pepperthai2!!
"In a relationship"? Think John Legend is jealous? JK.
In less than 24 hours, Chrissy's IG video has racked up just shy of 1.5 million views, and it's not hard to see why, is it?
Despite doing eight million things in a single day and making it look easy, the 31-year-old recently spoke to Entertainment Tonight about how important it is to find alone time with her husband, John Legend.
She said,
We're very lucky to be able to do that. Not a lot of people can do that: can go on date nights, can have a sitter, have someone take care of their baby. 'Me time' is important, but not everybody can do it.
Clearly, these two get it.
Citations: Chrissy Teigen Is Hilarious in Behind-the-Scenes Antics With Her Mom for Smirnoff Ad (Entertainment Tonight)