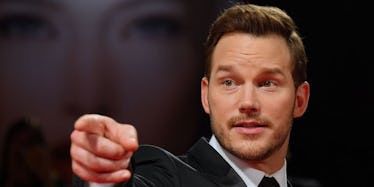 It Looks Like Chris Pratt Is A No-Show At The 2017 Emmys After Split With Anna Faris
REX/Shutterstock
You can say a lot of things about 2017, but one thing is for sure: It has been an exhausting year in pop-culture. Between Trump tweeting, Justin Bieber forgetting the lyrics to his own song, and the death of the "old" Taylor Swift, it's been hard to focus our attention in any one direction. Perhaps one of the saddest moments in 2017 pop-culture history, though, is when Chris Pratt and Anna Faris announced they are separating. The two have kept pretty low profiles since they announced their split in early August, so, naturally, everyone is looking for Chris Pratt at the Emmys.
Having been busy with his huge film career, Chris doesn't really have a reason to appear at this year's awards show (unless, of course, it's to accompany Anna who, on the other hand, is a scheduled presenter); sadly, it looks like, he was a no-show. Somehow I think it's better for all of us that Chris didn't come because seeing these two show up separately might just be too much heartbreak too soon. I won't lie, that thought stings a lot... ouch; Chris has had the gorgeous, funny, talented Anna Faris by his side for years, so this is unfamiliar territory for him (and, more importantly, for us). If there was ever one thing to look forward to on the red carpet it was these two goofing off and looking stunning together.
Though Chris Pratt sightings have been scarce as of late (he was not present at the MTV VMAs), he has been seen out a few times since early August. Indeed, the Jurassic World star was photographed heading into a church one week after announcing his split from Anna, and he showed up to claim his surfboard for Choice Movie Actor: Sci-Fi for Guardians of the Galaxy: Vol. 2 at the 2017 Teen Choice Awards. Anna, on the other hand, has kept a much lower profile over the past month and a half, making the Emmys her first major public appearance since late July.
Chris and Anna, who have been married since July of 2009, shocked fans when they announced their split on August 6 through their social media accounts. In an emotional Facebook post, Pratt wrote:
Anna and I are sad to announce we are legally separating. We tried hard for a long time, and we're really disappointed. Our son has two parents who love him very much and for his sake we want to keep this situation as private as possible moving forward. We still have love for each other, will always cherish our time together and continue to have the deepest respect for one another.
It's been almost two months and I'm still not sure how to feel. Like many people that 'shipped the couple, I'm conflicted. On the one hand, I understand that not all relationships are meant to be, and these two deserve their privacy; but, on the other hand, I'm with all of you internally screaming "LOVE IS DEAD."
All in all, though it sucks, at least it seems to be a somewhat amicable split, and they're certainly not the first couple to shock us with news of an unexpected split this year. Indeed, earlier this month it was announced that Fergie and Josh Duhamel have decided to end their eight-year marriage to each other, as well.
Anna and Chris seem focused on having a strong relationship with their son, Jack. It'll definitely take some adjusting, but I guess seeing Anna and Chris separately is what we can expect from now on. Best of luck to them both.
Check out the entire Gen Why series and other videos on Facebook and the Bustle app across Apple TV, Roku, and Amazon Fire TV.