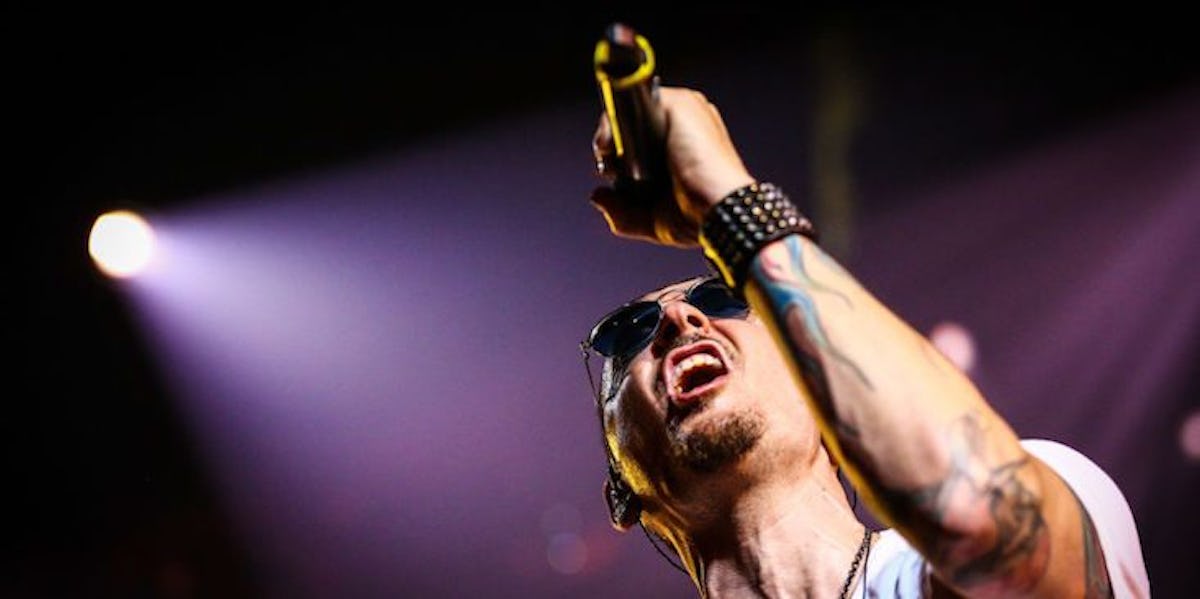 MTV Honored Chester Bennington With A Beautiful Tribute During the VMAs
Rich Fury / Stringer
Jared Leto just gave the most heartbreaking tribute to Chester Bennington at the 2017 VMAs and things got emotional. The VMAs Chester Bennington tribute is perfect and it's all we needed. Breaking from host Katy Perry's funny tone, Jared Leto took the stage to talk seriously about his good friend, Chester. Leto said,
Witnessing his life taught me important things, especially about working resolutely, pursuing dreams, and being kind and caring while doing it.
It was obvious from his speech that Jared Leto and Chester Bennington were super tight. Leto even mentioned that he had the opportunity to tour with Bennington when the two became good friends. The incredible tribute ended with a clip of Linkin Park performing at the Los Angeles' Griffith Observatory during the 2010 VMAs. What better way to bring it full circle?
Leto's final words about the incomparable Chester Bennington were,
I think about his voice, at once ferocious and delicate. That voice will live forever.
On July 20, 2017, Bennington was found dead after committing suicide in his home in California. He was discovered in the early morning of July 20, which was the 53rd birthday of his very close friend and the lead vocalist of Audioslave, Chris Cornell, who had committed suicide earlier this summer.
Bennington was 41 years old and is survived by his six children.
Linkin Park originated in 1996. Millions and millions of people even today still continue to love and cherish their music. Chester Bennington meant so much for the rock n' roll community and the music industry as a whole. It was really touching that MTV gave him such a great tribute, and everyone is really, really happy that they decided to include it.
Bennington truly left his mark on the music world, and, thanks to this beautiful MTV tribute, his legacy will live on forever.