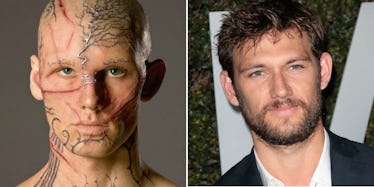 10 Characters You Won't Be Able To Recognize Because They're So Hot IRL
CBS Films REX/Shutterstock
Have you ever wondered what the creepy AF girl from "The Ring" looks like today, IRL?
How about that chick, Fran, who dominated the court in "Dodgeball," alongside Ben Stiller?
If you've ever watched a movie and instantly wanted to hit up Instagram to see what that actor or actress looked like IRL because the disguises were just SO good, welcome to the club.
Here are 10 characters that seriously look unrecognizable IRL. Some of the actresses played creepy characters when they were younger, and they grew up to be totally gorgeous.
As for the leading men? Well, get ready to call the fire department because they're smoking hot underneath the disguises they embrace in their movie roles.
1. Janis Ian in "Mean Girls," played by Lizzy Caplan
Obviously, we have to give our main girl Janis a shoutout. Gotta love her!
2. Kyle in "Beastly," played by Alex Pettyfer
UM... can we hold up one hot second here and admire how much of a smokeshow Alex Pettyfer is? That navy blue suit deserves some major attention.
Margaret McPoyle and her two brothers are bizarre AF in "It's Always Sunny In Philadelphia." But in real life, actress Thesy Surface is insanely gorgeous.
4. Lisbeth Salander in "The Girl with the Dragon Tattoo," played by Rooney Mara
Lisbeth certainly kept all of us on our toes in the thriller we couldn't keep our eyes off of.
5. Effie Trinket in "The Hunger Games," played by Elizabeth Banks
Effie Trinket turned out to be such a gem in "The Hunger Games." Although her outfits were super whimsical, they portrayed her vibrant personality perfectly.
6. Samara in "The Ring," played by Daveigh Chase
YEP... this is the sketchy girl who scared the shit out of all of us in "The Ring."
We hoped to dear LAWD she wouldn't casually crawl out of our TV screens in the middle of the night.
7. Laney Boggs in "She's All That," played by Rachael Leigh Cook
"She's All That" is one of the best, most classic chick flicks in my book. We all swooned over how much Zack and Laney were meant to be together.
8. Nux in "Mad Max: Fury Road," played by Nicholas Hoult
Hot damn: Talk about a quality #TransformationTuesday picture.
9. Mara Chaffee in "Village of the Damned," played by Lindsey Haun
This red-eyed little girl gives me ALL the nightmares. And look at how beautiful she is today.
10. Fran in "Dodgeball," played by Missi Pyle
Fran knew what was UP when it came to playing dodgeball. And in real life, actress Missi Pyle clearly knows what's good in the hair department.
Shoutout to those flawless curls.