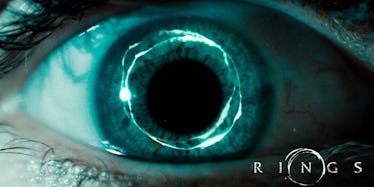 The New Trailer For 'Rings' Is Finally Here, And You'll Never Sleep Again
Paramount Pictures
Fourteen years ago, Naomi Watts watched a cursed video, and I haven't had a good night's sleep since.
Yes, believe it or not, "The Ring" first graced the big screen in 2002, when George W. Bush was president of the United States, Ja Rule had a two-week run atop the US singles chart and the iPod 2nd Gen (Touch Wheel) was on the cutting edge of technology.
But I digress.
Today, August 24, is a special day. Why, you ask? Well, the full trailer for "Rings," the third installment in the "Ring" franchise, just dropped, and I dare you to watch this and try to sleep tonight.
Like, this might be the scariest fucking thing I've ever seen. It's two minutes and 25 seconds of sheer horror. It's the type of horror you don't want to see, but you just can't look away.
So, what goes down in the latest, and arguably most horrific, addition of the "Ring" franchise? The "Rings" official trailer YouTube page reads,
A new chapter in the beloved 'RING' horror franchise. A young woman becomes worried about her boyfriend when he explores a dark subculture surrounding a mysterious videotape said to kill the watcher seven days after he has viewed it. She sacrifices herself to save her boyfriend and in doing so makes a horrifying discovery: there is a 'movie within the movie' that no one has ever seen before…
If you're still breathing after watching the above trailer, then you can check out "Rings" in theaters on October 28, just in time to scare the shit out of yourself before Halloween technically arrives.
I'm sorry.
Citations: THE FULL 'RINGS' TRAILER HAS ARRIVED AND IT'S AS CREEPY AS YOU'D IMAGINE (The Roosevelts)