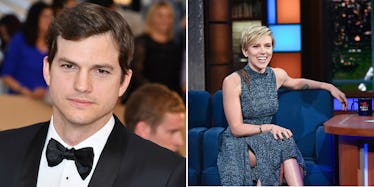 These Celebrities Are Actually Twins, And You Need To See Their Other Half
Getty
Now that Beyoncé has had her babies, being a twin is officially in vogue.
These celebs were already cool, but now that they have something in common with the new little Carters, they're even cooler.
Ashton Kutcher
Ashton Kutcher and his fraternal twin bro are tight as can be. Ashton has opened up about how hard it was growing up and seeing his brother, who has cerebral palsy, struggle with things like eyesight and motor skills. Michael now works directly with the charity "Reaching for the Stars, A Foundation of Hope for Children with Cerebral Palsy."
Scarlett Johansson
Scarlett Johansson's twin brother, Hunter, works in politics, but before he decided to be a campaign advisor to President Obama in 2008, he gave acting a shot -- appearing in the film Manny & Lo with his celeb sis back in 1996.
Gisele Bündchen
Gisele Bündchen is famous for her good looks -- looks she shares with her fraternal twin sister, Patricia. Talk about good genetics!
Jon Heder
Napoleon Dynamite comes from a showbiz family, though his brother, Dan, is usually found behind the camera. Dan Heder is best known for his visual effects work on blockbusters like Edge of Tomorrow and Guardians of the Galaxy Volume 2.
Alanis Morissette
Music must run in the Morissette family because Alanis Morissette's twin brother, Wade, also rocks out for a living. In addition to being a yoga instructor and therapist, Wade is a Kirtan and indie-rock musician.
Rami Malek
Rami Malek once pulled a classic twin switcheroo with his identical twin brother, Sami, back when they were both in college. He revealed to Jimmy Kimmel he once disguised himself as his brother and delivered a monologue so his bro could get the credit he needed to graduate.
Laverne Cox
Actress and transgender activist Laverne Cox has an identical twin brother, musician M. Lamar. He actually plays Cox's Orange is the New Black character Sophia in her pre-transition scenes.
Vin Diesel
Vin Diesel and his twin brother, Paul, both work in the film industry. But don't break too much of a sweat racking your brain for where you've seen the other Diesel -- you probably haven't because he works behind the scenes as a film editor.