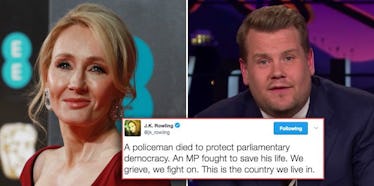 JK Rowling, James Corden And Other Celebs React To London Terror Attack
REX/Shutterstock/Twitter
As the city of London is dealing with the aftermath of a tragedy, celebrities are lending their voices of support.
On Thursday, four people, including the attacker, died on Westminster Bridge when a man drove an SUV into pedestrians before barreling onto the grounds of the Palace of Westminster.
One of the dead include a 48-year-old police officer named Keith Palmer, who was stabbed by the attacker. It's currently being reported that about 40 people were injured.
Scotland Yard has declared the incident an act of terror.
UK celebs, as well as celebs from all over, have voiced their support for those affected and their grief at the horrific incident.
James Corden opened his show with an emotional message to his hometown.
"If this act of terrorism was suppose to divide the people of London," Cordon said, "I know for a fact that all something like this does is bring them closer together as one. Tonight we send our heartfelt thoughts to everybody in Britain. Stay safe."
Other celebrities turned to Twitter to make their support heard.
Author JK Rowling commended Palmer for his final act of bravery, while also criticizing the sensationalism of the attack.
"Hamilton" creator Lin-Manuel Miranda, who is currently living in London while he films "Mary Poppins," confirmed his safety and sent his love.
Nicki Minaj tweeted her condolences to the families of those hurt.
P!nk expressed her sadness and anger at "yet another tragedy."
Singer and DJ Boy George specifically called for "more security, more police, more eyes," in his Twitter response.
And Katy Perry, Brie Larson and Ellen Degeneres all sent their love to London.
The attack on Wednesday occurred on the one-year anniversary of the attack in Brussels, Belgium, in which 30 people were killed by suicide bombers at an international airport and a central subway station.
Much love to those in London affected by this attack.