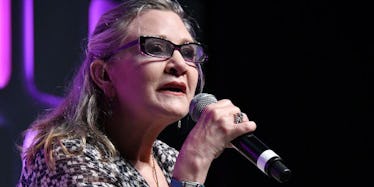 Carrie Fisher's Ashes Placed In A Giant Prozac Pill, Her 'Favorite Possession'
REX/ Shutterstock
Some of Carrie Fisher's ashes were placed in an urn shaped as a giant Prozac pill before being laid to rest alongside her mother, Debbie Reynolds.
According to her brother, Todd Fisher, the pill replica was her favorite possession.
While speaking about the unique Prozac pill-shaped urn, he noted the fact that Billie Lourd, Carrie's daughter, agreed she would want to be placed inside of it, Sky News reports.
Todd said,
Carrie's favorite possession was a giant Prozac pill that she bought many years ago. A big pill. She loved it, and it was in her house, and Billie and I felt it was where she'd want to be.
In a photo that recently surfaced, Todd Fisher can be seen carrying the light green and white pill-shaped urn to Carrie's private funeral service in Los Angeles, California.
While referring to the capsule, Todd continued,
It was her favorite thing, and so that's how you do it. And so they're together, and they will be together here and in heaven, and we're OK with that.
The Prozac pill is especially fitting for the "Star Wars" actress because she was a mental health advocate her entire life.
According to Sky News, the star had bipolar disorder and depression and she worked to eliminate the stigma behind mental illness.
Not all of Carrie's ashes were placed inside the Prozac pill, though.
According to USA Today, some of her remains were placed inside a coffin, which was buried next to her mother's coffin on Friday afternoon.
Her mother, Debbie Reynolds, died at 84 years old after suffering a stroke on December 28 -- one day after Carrie died.
The duo was buried together at Hollywood's Forest Lawn Memorial Park and will remain side-by-side for eternity.
Todd commented on the service, saying,
We'll have a bigger service down the road for the public and all the family friends, but this was a private family service and we're -- it was fitting and it was beautiful.
The funeral followed a private event held at Fisher's home where close family and friends gathered in her living room, ate her favorite foods and sang her favorite song.
Citations: Carrie Fisher, Debbie Reynolds laid to rest, side by side (USA Today), Carrie Fisher's ashes carried in Prozac pill urn as she is laid to rest with Debbie Reynolds (Sky News)