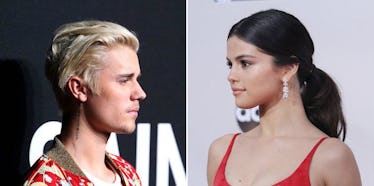 Justin Bieber And Selena Gomez Were Up For The Same BBMA... And They Both Lost
REX/Shutterstock
The Billboard Music Awards are still going down, but K-pop band BTS won Top Social Artist over Justin Bieber, Selena Gomez, Ariana Grande, and Shawn Mendes.
The group's fans have been dominating the Billboard Music Awards Twitter thread all night, so yeah, I guess this award is very fitting.
BTS, aka the Bangtan Boys, consists of seven guys: Jin, Suga, J-Hope, Rap Monster, Jimin, V, and Jungkook. They've been popular in South Korea since 2012.
And their followers have been blowing up the #BBMAs hashtag all night.
Seriously, look:
These fans are LOYAL.
BTS beat out Selena Gomez AND Justin Bieber. Most people thought the award was pretty much a shoo-in to go to one half of the ex-couple.
Selena is literally the most followed person on Instagram and used to have the most liked Instagram of all time, after all. And Justin Bieber has an entire army of Beliebers who have been with him since his YouTube roots, so these two are definitely popular on social media.
But hey, neither Selena Gomez nor Justin Bieber showed up to the Billboard Music Awards, so maybe they didn't DESERVE THE AWARD, EH???
I'm just kidding. They probably both have very valid reasons for not being there.
And I imagine one of them is they don't want people talking about their former relationship because that's literally all people can do when they're in the same general vicinity (even though that's what I'm doing... right now... oops).
OK, MOVING ON.
Out of all of the night's nominations, Drake and The Chainsmokers had the most nominations, with each of them being up for 22 awards. The Chainsmokers beat Drake for Top 100 song with "Closer." Drake was nominated for "One Dance."
21 Pilots was up for 17 total awards, Rihanna was nominated 14, The Weeknd was nominated 13, and Beyoncé, our Lord, light and savior, had eight nominations.