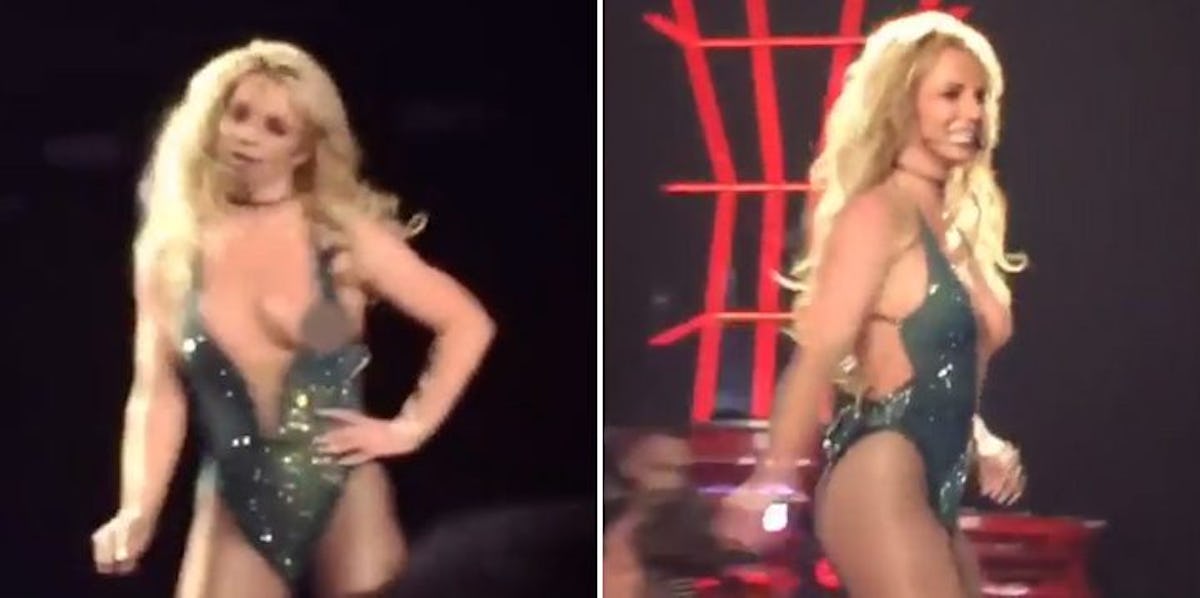 Britney Spears Had A Nip Slip At Her Las Vegas Show And Didn't Even Realize It
Daily Mail
The show must go on. Right Britney?
As a part of her residency in Las Vegas at the Axis at Planet Hollywood, the star performs three nights a week, selling out often and giving crowds the Britney Spears hits they long for.
And last night, the crowd got just a little more bang for their buck.
While performing her 2013 hit single "Work B**ch," the pop icon's deep cut, sparkly green leotard showed more than just a little cleavage while she stomped across the stage in her black over-the-knee boots.
And perhaps this is completely beside the point, but she looked phenomenal.
Anyway, the crowd can be heard going crazy in the background – whether it's for her or for her nipples, we will never know.
The star is no stranger to wardrobe malfunctions.
In October of last year, while performing a version of Joan Jett's "I Love Rock 'n' Roll," Spears' bra strap came completely undone, not once but twice. One of her backup dancers quickly came to her aid, but in the end she had to change clothes.
Again in October of 2015, during her performance of the 2009 hit single "3" at her residency in Las Vegas, her backup dancers rushed to her side to ensure her see-through bodysuit didn't fly off her.
At 1:25, you can see Britney gesturing to her zipper in the back, which had flown completely open. But still, she didn't break a sweat.
And although you wouldn't know the difference looking at Brit's face, last night, fans definitely took notice.
She took "free the nipple" literally.
Of course, she's not the only one to have dealt with a massive wardrobe malfunction during a performance.
In 2013, America's favorite diva Mariah Carey was set to perform on "Good Morning America," but her gold sequin Versace ball gown popped open in the back.
And, of course, in 2004, Janet Jackson's huge performance featured Justin Timberlake and also her right breast.
**Warning: full boob ahead**
At least it wasn't on live television Britney!
Citations: Daily Mail