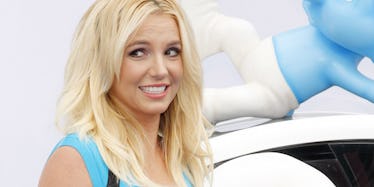 Britney Spears Almost Had A Nip Slip At Her Show When Her Bra Popped Off
Shutterstock
Britney Spears nearly slipped a nip during her Vegas show because, after over two decades in the business, she still hasn't given us vultures enough.
If anyone deserves to shuffle on stage in stained sweats, lay on the ground and just sort of barely hum her catalog while she works her way through a meatball sub, it's Britney Spears.
Instead, she's playing to packed houses at The Axis in Las Vegas for her Piece Of Me residency dressed in a leather bondage bra and a half-skirt made of expensive dish rags.
The bra in question popped open at the clasp during her performance Saturday night, nearly exposing one or both nips to the crowd.
Her dancers stepped in to secure her booblets back into place, but honestly, who cares if Britney's boob popped out momentarily?
In 2007 — widely considered her most infamous era — Britney kept her tots securely under wraps.
Her vageen, on the other hand, made enough public appearances that year to inspire columnist Rob Sheffield to cover the cultural significance of its exposure for Rolling Stone in a piece stunningly titled, "Brit's Bits: Anyone Doubting Britney's the Biggest Star Ever Isn't Thinking Vaginally."
When it comes to mama Britney, the Millennial generation has experienced every intimate bit of her --be it physical, emotional or otherwise.
A nip slip, at this juncture in her career, would probably feel a lot like walking past your bedroom window naked in the middle of the night: You'd spot a nip, realize it was just your own and briefly wonder whether anyone else got a look before sitting naked on the edge of your bed and finishing that David Pumpkins sketch your friend Facebook messaged you.
It's whatever.
Let Brit and her nips rest. Give her a rolling chair and a headset and let her perform via Skype for the rest of her life.
She doesn't owe us anything.
Citations: Gimme More clothes! Britney Spears risks baring all as bondage-style bra rips open before stunned dancers desperately try to protect her modesty at Vegas show Read more: http://www.dailymail.co.uk/tvshowbiz/article-3866216/Gimme-clothes-Britney-Spears-risks-baring-bondage-style-bra-rips-open-stunned-dancers-desperately-try-protect-modesty-Vegas-show.html#ixzz4O2PoSaCY Follow us: @MailOnline on Twitter | DailyMail on Facebook (Daily Mail)