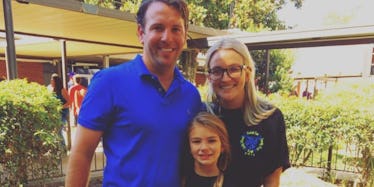 Britney Spears' Niece Is Finally Awake And Speaking After Terrifying ATV Accident
Instagr
On February 5, Jamie Lynn Spears' 8-year-old daughter was involved in an ATV accident.
Maddie, who is also Britney Spears' niece, flipped the off-road vehicle into a lake where she was "submerged for several minutes."
Maddie was airlifted to a New Orleans hospital unconscious where she was listed as in critical but stable condition.
Thankfully, an update from a family rep says Maddie is now breathing on her own and awake.
The family rep told People,
Doctors were able to remove the ventilator today and she is awake and talking.
While she is still receiving oxygen, it doesn't appear the young girl suffered any neurological damage.
The hospital said,
With her father, mother and stepfather by her side, Maddie regained consciousness mid-day Tuesday, February 7. The 8-year-old daughter of entertainer Jamie Lynn Spears was involved in an ATV accident at a family home Sunday in Kentwood, La. Paramedics resuscitated her and she was airlifted to a local hospital. She is aware of her surroundings and recognizes those family members who have kept a round-the-clock vigil since the accident.
A report detailed the terrifying experience,
The ATV and child were instantly submerged in the water right before their eyes. Within seconds the child's mother, stepfather and other family members reached the pond, dove in and attempted to rescue the child to no avail. The child was trapped and secured by the seatbelt and the ATV's safety netting. Within two minutes, Acadian Ambulance Services arrived and assisted in freeing the child from the cold waters.
At 16, Jamie Lynn Spears announced she was pregnant with Maddie, which led to her leaving Hollywood and her hit show "Zooey 101."
With her ex Casey Aldridge, Jamie Lynn welcomed their daughter in 2008, and the couple split in 2010. Spears and her husband Jamie Watson have raised Maddie in Louisiana, where Jamie Lynn also grew up.
Citations: JAMIE LYNN SPEARS DAUGHTER AWAKE AND BREATHING ON HER OWN (TMZ)