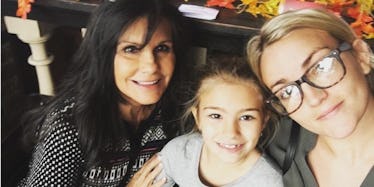 Jamie Lynn Spears' Daughter Critically Injured In Accident: 'Pray For Our Baby'
Instagram
Jamie Lynn Spears' 8-year-old daughter was reportedly injured in an ATV accident and is now in stable condition.
According to a report from TMZ, Spears' daughter, Maddie, was in an off-road vehicle that flipped over on February 5. Maddie fell into a lake and "was submerged for several minutes."
TMZ added Maddie was airlifted to a hospital in New Orleans unconscious.
However, a representative for Britney Spears, Maddie's aunt, implied some details of the accident may be false.
The rep told Entertainment Tonight,
The details the media are reporting surrounding the incident regarding Jamie Lynn's daughter Maddie are incorrect. Right now the Spears family asks that everyone respect their privacy during this time and appreciates all the prayers and support for their family.
The father of Jamie Lynn and Britney, Jamie Spears, told ET,
All I can say is pray for our baby Maddie.
Jamie Lynn Spears, 25, currently lives with her husband, Jamie Watson, in Louisiana.
The younger sister of Britney Spears, Jamie Lynn got pregnant at 16 years old, ending her run as her most known-role: Zoey from Nickelodeon's "Zoey 101," which stopped after only four seasons.
Spears gave birth to Maddie on June 19, 2008. She was briefly engaged to Maddie's biological father, Casey Aldridge, who was 18 when Spears got pregnant.
Spears and Aldrigde called the engagement off the next year, and Spears moved to Nashville to pursue a career in music.
Spears met Watson, a businessman, in 2011, and the two were engaged in 2013. They were married in March 2014.
Some of Jamie Lynn's life will be portrayed in the upcoming Lifetime original movie, "Britney Ever After," a biopic featuring many of Britney's friends and family. Jamie Lynn will be played by actress Josie Bulbrook.
All the best to Jamie Lynn Spears and her entire family. We're all hoping for a speedy recovery for Maddie.
Citations: Jamie Lynn Spears's Daughter Reportedly in "Extremely Serious" Condition After ATV Accident (Cosmopolitan), JAMIE LYNN SPEARS DAUGHTER IN CRITICAL BUT STABLE CONDITION (TMZ), Jamie Lynn Spears' Daughter Is Reportedly In Serious Condition After ATV Accident: 'Pray For Our Baby' (Entertainment Tonight)