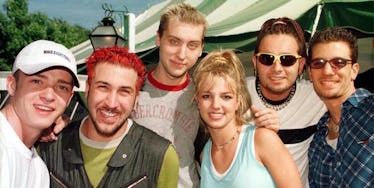 New Pics From Britney Spears Biopic Are Here And We Have Some Questions
REX/Shutterstock
Holy crap this Britney Spears biopic looks like the best piece of TV ever made.
Is it possible to give a TV movie an Emmy Award before it's come out and when it's not Emmy season? Because that's what I want to do with this Britney Spears Lifetime movie that's coming out.
Based purely on a few seconds of behind-the-scenes footage from the set in Vancouver, I can guarantee this thing will not be anything less than a cultural touchstone our kids will be talking about in 50 years.
On top of that, Lifetime released the first stills from the movie on Thursday, and they're honestly better than anything your will ever see.
Better than "The Godfather." Better than watching your own child laugh for the first time.
Brace yourselves.
LIFETIME'S VERSION OF *NSYNC MAKES UP FOR EVERYTHING BAD THAT HAPPENED IN 2016.
Chrissy Teigen gets it!
"Britney" hasn't been without its fair share of controversy, mostly stemming from Spears' lack of enthusiasm over the movie being made.
After news of the biopic's production came out, Britney's publicist released a statement saying,
Britney Spears will not be contributing in any way, shape or form to the Lifetime biopic, nor does it have her blessing.
Natasha Bassett, who is playing Britney Spears in "Britney,"  says it's probably not as bad as Spears thinks it's going to be.
Bassett even went on record saying if Britney were to watch the movie, which covers Spears' 2007 meltdown *cue photos of bald Britney smashing the side of a car with a closed umbrella*, she'd probably be totally cool with it.
She told Inside Edition,
I just have so much respect for her and her career.
Anyway, the movie comes out in February so clear your schedule. Like that entire month. Quit your job if you have to.
Citations: People Have a Lot of Feelings About These First Photos from the Britney Spears Biopic (Cosmopolitan)