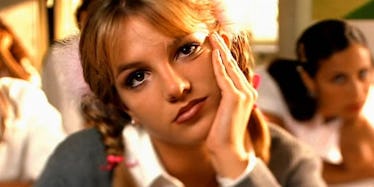 Actress Playing Britney Spears In New Lifetime Biopic Calls Role 'Traumatic'
YouTube
On February 18, the first-ever biopic on Britney Spears, "Britney Ever After," will air on Lifetime.
After footage was leaked back in 2016, the media and fans were not too kind in their assessment of the upcoming movie, calling it "trash" and "tragic."
However, that didn't stop production, and in fact only brought some press to the biopic where there initially was none.
And now Natasha Burnett, the 23-year-old Australian actress cast as Britney herself, has brought more attention to the upcoming film by addressing what everyone assumed, but now knows for certain.
We did Britney wrong.
Burnett called the role "extremely traumatic" in an interview with New York Daily News, explaining the experience gave her "a lot more empathy" for the star.
She continued,
I mean, she's not like anybody else. Her entire life, she's been chased by paparazzi and she's constantly being scrutinized and in the public eye, so it's not normal.
As most people know, Britney Spears began her rise to stardom in 1992 as a member of Disney's "Mickey Mouse Club" alongside the likes of Justin Timberlake and Christina Aguilera – which makes her fame almost three decades old.
That's an incredible amount of time to be scrutinized by all of America, which could explain her 2007 meltdown that shook the country.
But once you hit rock bottom, the only way to go is up, and Britney's comeback was one that everyone was rooting for.
The Lifetime film is supposedly going to cover her rise to fame, mental breakdown and eventual comeback, but interestingly enough, Spears had nothing to do with the production.
The pop icon's representative told Entertainment Weekly Spears wasn't involved "in any way, shape or form… nor does it have her blessing."
This probably explains Burnett's hesitations, but nonetheless the movie is happening, and the world is ready to see how Lifetime portrays America's first Kardashian.
"Britney Ever After" premieres February 18 at 8 pm on Lifetime.
Citations: Lifetime Biopic Actress Says Playing Britney Spears Was "Extremely Traumatic" (Cosmopolitan)