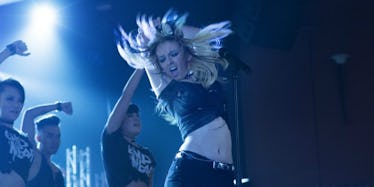 Britney Spears Biopic Actor 'Can Only Hope' She Watches Lifetime Movie
REX/Shutterstock
Natasha Bassett, who is staring in the unauthorized Britney Spears biopic from Lifetime called "Britney Ever After," has some high hopes for the made-for-TV movie.
She's really hoping the pop sensation will watch it, despite the fact Spears is "not contributing in any way, shape or form to the Lifetime biopic, nor does it have her blessing," according to her rep.
Bassett told Us Weekly,
I have so much respect and admiration for Britney and what attracted me to doing this movie is that it's truly a feminist story at its core. And as a feminist myself, I was inspired to tell the story of a woman's journey. She was faced with so many challenges, but she comes out at the end so strong and on top.
Bassett admits the movie does cover the days of Spears' life when she was a hit for tabloid magazines and a source of rumors and negative attention.
This includes her mental breakdown that resulted in her shaving off her hair in 2007 and attacking a paparazzo's car with an umbrella.
But according to the 24-year-old Australian actress, it also documents her road to recovery and how she regained her former success.
She said,
It shines a really positive light on her, how one of the world's greatest entertainers — she's also a mom of two gorgeous boys — bounced back after a really trying time in her life. It shines a light on all these positive attributes of her personality. So I can only hope she watches it and knows how much respect and admiration I have for her.
Nathan Keyes, who plays Justin Timberlake in the movie, also says that it's to honor Spears' amazing comeback. He said,
Having portrayed Justin and diving deep into that part of Britney's life, I feel a deep sense of love for her. There's so many feelings involved, but mainly I would just hope that she would tune in and know that it's all about love. Ultimately, we're celebrating where she is today. It's huge what she has accomplished in her life.
"Britney Ever After" premieres on Lifetime on Saturday, February 18 at 8 pm EST. Britney Spears will probably not be watching.
Citations: Britney Ever After's Natasha Bassett: Why I Hope Britney Spears Will Watch the Lifetime Movie (Us Magazine)