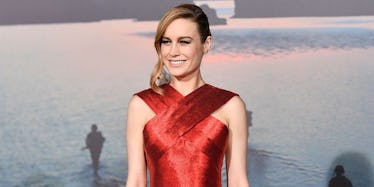 Brie Larson Proved She's A Feminist Icon With This Latest Movie Announcement
REX/Shutterstock
There was perhaps a moment during Brie Larson's staunch refusal to praise Casey Affleck's Best Actor Oscar win for "Manchester by the Sea," despite being the award's presenter, when it seemed as though she'd reached peak feminism.
FALSE. That was dope, sure (because fuck Casey Affleck. The rest of us do our jobs all the time without sexually harassing anyone and lead full, happy lives), but the Academy Award-winning actress secured her feminist gold card when Deadline announced she'd be playing Victoria Woodhull, the first woman to run for president of the United States.
Vicky Dubbs, a name I do not encourage using in an effort to honor her memory in a dignified manner, ran for office in 1872.
Considering the 19th Amendment didn't give women the right to vote until 1920, her choice to try to snag that presidential position was essentially the most inspirational decision to have ever been made up to that point in history, probably.
The role is perfect for Brie, who's a major lead-by-example/actions-louder-than-words type of activist. After keeping her hands pinned at her sides while the crowd clapped and cheered for creepy Casey, she refused to comment further.
Instead, she told Vanity Fair,
I think that whatever it was that I did onstage kind of spoke for itself… I've said all that I need to say about that topic.
Similarly, as the audience at the Golden Globes cheered for Lady Gaga's performance of "Til It Happens to You" at the 2016 Oscars, Brie stood at the bottom of the stage, hugging each and every sexual assault survivor who appeared on stage with the pop star.
Brie told the magazine her films are the best way for her to enact social change, though, by simply doing her job.
She said,
There is a sense of joy and exhaustion that comes with every film, but the hope is that all the exhaustion pays off and you end up getting to share it with the world. That's the reason why I make movies… You hope that it reverberates outward and that it changes people's opinions and hopefully for the better.
You know what? Fuck it. I'll say it. Brie Larson 2020.
Citations: Deadline