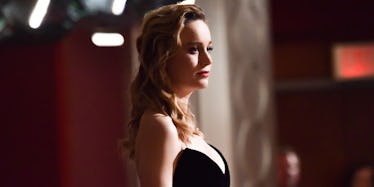 Brie Larson Not Clapping For Casey Affleck's Oscar Win Speaks For All Of Us
REX/Shutterstock
If there's one person who's happy awards season is finally over, it's Brie Larson.
Why? Because it means she can finally stop being forced to hand over awards to Casey Affleck, a man who was sued multiple times for sexual harassment and assault.
It's been a little over a month since she had to present Affleck a Golden Globe, which she did with clear trepidation.
Then, at the 2017 Oscars on Sunday night, she had to do it AGAIN, when Affleck won Best Actor for his role in "Manchester by the Sea."
And once again, Larson was clearly not happy about it.
While she kept it professional and handed Affleck his Best Actor award without comment, the look on Larson's face when she read his name said it all.
That, and the fact that she refused to clap for Affleck as he gave his acceptance speech.
If you're not convinced Larson was displeased by Affleck's win, here's a little context.
Brie Larson, who last year won the Oscar for Best Actress for her role in "Room," is an outspoken advocate for survivors of sexual assault.
For example, after Lady Gaga's performance at last year's Oscars, in which the singer was joined by sexual assault survivors on stage, Larson made a point to hug every single one of them.
Casey Affleck, on the other hand, was sued by two separate female co-workers for countless instances of sexual harassment and misconduct in 2010 while on set for the movie "I'm Still Here."
Both women provided many examples of Affleck's misconduct, with one of the more disturbing stories being that he snuck into his cinematographer's bed in the middle of the night.
The cinematographer, Magdalena Górka, recounted the incident in legal documents, stating she woke up in the middle of the night to Affleck "curled up next to her in the bed wearing only his underwear and a T-shirt. He had his arm around her, was caressing her back, his face was within inches of hers and his breath reeked of alcohol."
Affleck also faced accusations of minor physical violence and many, many, many inappropriate and threatening comments.
Put all of that context behind the fact that Larson had to hand Affleck the most esteemed acting award the film industry has to offer, and you can definitely understand her discomfort.
I sincerely hope Brie Larson never has to be in the same room as Casey Affleck ever again. Hasn't she suffered enough?
Watch Affleck full acceptance speech for Best Actor below.
Citations: Brie Larson Refused To Clap For Casey Affleck's Oscar Win (BuzzFeed)