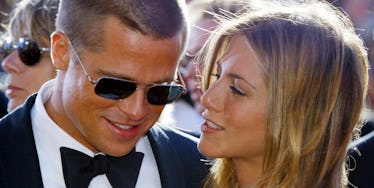 10 Celeb Breakups That Were Much More Shocking Than Brad And Angelina
RUETERS
RIP Brangelina. Your breakup is sad, but also not like super sad.
In case you somehow missed it, today is the first day in 12 years Brad Pitt and Angelina Jolie are not a couple. It's a sad day, but a day I think we can all admit is at least a few years overdue.
It just all seems kind of expected. Obviously, divorce is a serious and terrible thing, but Brangelina was never really that serious in my mind and that is hindering my ability to view this as a terrible development.
He's too much of an oddball and she is the literal definition of "aloof." It's like watching kids do weird food things like dunking donuts into chicken soup and then being shocked the flavor didn't work out.
Yeah! No duh, Angelina Jolie and Brad Pitt didn't work! Those two goofs were doomed from the get-go.
We'll be fine. There have been worse breakups out there, everybody! There have been breakups that have made me sincerely say things like "Glad to hear the concept of love is dead!" and "I never want to be awake anymore!" and "America isn't the greatest country in the world!"
Let's take a depressing walk down memory lane real quick and remember some breakups that ACTUALLY meant something.
Each one of these was significantly worse than whatever Brad and Angelina are going through right now.
I'll give you a quick sec to grab some Kleenex and an entire case on Ben & Jerry's.
Susan Sarandon and Tim Robbins
Miranda Lambert and Blake Shelton
Gwyneth Paltrow and Chris Martin
Kermit and Miss Piggy
Will Arnett and Amy Poehler
Jennifer Aniston and Brad Pitt
One Direction
Gwen Stefani and Gavin Rossdale
Reba McEntire and Narvel Blackstock
Ben Affleck and Jen Garner
RIP: the concept of love.