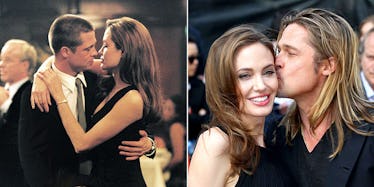 Photos Of Brangelina Over The Last 12 Years Will Make You Want To Cry
REX/Shutterstock
The world is ending, love is dead and I am not OK.
This morning, we learned our beloved Angelina Jolie filed for divorce from Brad Pitt.
The two have been together since 2004, so their love has gone strong for almost 12 full years.
According to sources, Angelina was unhappy with Brad's parenting ways and decided to end their marriage.
NOOOOOOOOO, ANGELINA. SAY IT AIN'T SO. TELL US THIS IS JUST ONE BIG JOKE.
If you're trying to be strong right now, then check out some pictures of Brangelina over the last 12 years to make yourself feel better.
Let's think about the good times, you guys. Let's look back at when they were happy and in love and everything was right in the world.
WHO AM I KIDDING? I AM A MESS RIGHT NOW. CRY WITH ME, PEOPLE. GRAB SOME KLEENEX AND SOB.
Brad Pitt and Angelina were Hollywood's "it" couple. They were beautiful and flawless and perfect in every way.
They were always so smiley and full of laughter.
MY HEART, IT BREAKS. JUST LOOK AT THESE TWO!
They couldn't keep their eyes off each other. It was love at first sight.
GET ME ANOTHER BOX OF TISSUES, MOM. DO YOU SEE I'M IN PAIN? HELP ME.
Please take note of how softly Angelina rests her hand on Brad's chest.
And how she looks at him with pure awe and amazement.
She loved her man more than anything.
And he loved her, too.
RIP TO THAT, I GUESS. GOD DAMMIT.
I want somebody to grab my head and kiss me the way Brad grabs Angelina and kisses her.
I want someone to whisper sweet nothings into my ear even when I have blood dripping down my face.
I WANT SOMEONE TO ADMIRE ME FROM AFAR AND THINK I'M HOT AND SEXY AND PRETTY AND STUFF.
Brangelina was couple goals. They were everything this world needed.
WE STILL NEED YOU, BRANGELINA. WE LOVE YOU SO MUCH.
GET ME SOME TOILET PAPER, MOM. ANYTHING WILL DO AT THIS POINT.
Ya, BRB. Gonna go write a love letter to myself and burn it because I'll never find a love like this.
Ugh, the throwbacks are the worst. They were so young and in love. Also, damn. They hot AF.
RIP Brangelina. You're forever alive and thriving in my heart.