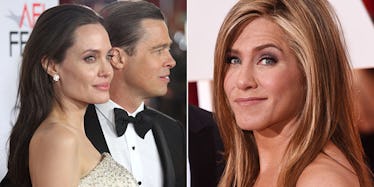 Everyone's Making Jokes About Jennifer Aniston After Brad And Angelina Split
REX/Shutterstock
WHAT KIND OF WORLD ARE WE LIVING IN, PEOPLE?
LOVE IS DEAD, AND SO AM I.
I was calmly sippin' my morning coffee when suddenly the news hit: Angelina Jolie filed for divorce from Brad Pitt.
UMMMM, no. Nope. Sorry, that's not happening!
According to TMZ, the decision came following a conflict the couple had over their kids.
The source reveals Angelina wants physical custody of their six children, but Brad can have visitation hours. This is huge, considering Angelina doesn't want her ex-husband to have joint physical custody.
People who are close to the couple told TMZ Angelina was unhappy with Pitt's parenting ways.
If you've followed their love story, you know Brad and Angelina have been together since 2004. THAT'S LIKE... 12 FULL YEARS.
THE WORLD IS CRUSHED. EVERYONE IS HEARTBROKEN. Well, except for one person...
Enter Jennifer Aniston.
Brad and Jen were married for five years before he left her for Angelina Jolie. It was a pretty dramatic breakup, and the internet has been obsessed with the ex-couple ever since.
So, as you can imagine, now that Brangelina is out of the picture, Twitter is going insane.
Everyone is making the same jokes about Jennifer Aniston after hearing about Brangelina's split.
The reaction GIFs are endless. Jen's face is flooding everyone's timeline.
SORRY, ANGELINA?!?!?!?!
RIP, Brangelina. And hello, Brennifer.
What? Is that not cute?
Shut up, I TRIED.
Citations: Brad Pitt Angelina Jole Divorce (TMZ)