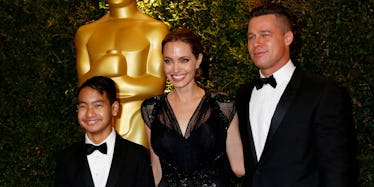 Brad Pitt Met With Maddox For First Time Since Their Infamous Plane Fight
REUTERS
Brad Pitt reportedly reunited with his kid Maddox for the first time since Angelina Jolie filed for divorce.
Although the movie star had seen his other children, reports swirled he had not been in contact with Maddox.
At the time, a source told Us Weekly the 15-year-old chose not to meet up with Pitt when he had the chance. Instead, he is believed to have stayed home with Jolie.
But according to TMZ, Pitt and Maddox met up on Wednesday with a therapist present.
So what's that all about?
Well you may have read reports authorities are investigating child abuse claims against Pitt.
It is alleged someone filmed an incident on the tarmac after a heated argument on a plane between Pitt and Maddox.
Footage -- if there is any -- has not been leaked to the public.
However, Jolie is reported to have zero intention of helping authorities bring any kind of case forward against her ex if they were to build one.
Meanwhile, she's been busy making steps toward a new life without Pitt.
The other day, she was photographed viewing a home to rent in Malibu, California.
The 41-year-old was with her brother, James Haven, and five of her kids: Shiloh, Zahara, Pax, Knox and Vivienne.
Angelina viewed the home after stopping by the beach. A source told ET,
The kids were running around and they seemed happy and to be doing well. Zahara ran out to the beach by the water. The kids were playing on the beach.
The source added Angelina looked "relaxed."
Pitt and Jolie are believed to be sharing custody of the children, although Angelina has physical custody. He's only allowed to see the children on the condition he is supervised by a therapist.
This, however, is just a short-term solution.
He's agreed to take drug and alcohol tests, and his case will be reviewed on October 20.
Citations: BRAD PITT FIRST FACE-TO-FACE WITH MADDOX Since Plane Incident (TMZ)