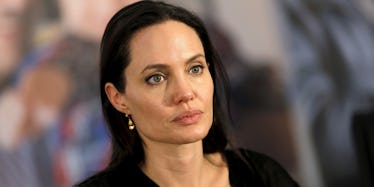 Angelina Jolie Doesn't Look Like Herself In First Pics Since Filing For Divorce
REUTERS
Angelina Jolie was spotted for the first time since filing for divorce from Brad Pitt, and we have some serious questions about her attire.
She was seen looking at a home to rent in Malibu, California, shoeless and wearing a robe, according to ET.
The 41-year-old was with her brother, James Haven, and five of her kids: Shiloh, Zahara, Pax, Knox and Vivienne.
Angelina viewed the home after stopping by the beach. A source told ET,
The kids were running around and they seemed happy and to be doing well. Zahara ran out to the beach by the water. The kids were playing on the beach.
The source added Angelina looked "relaxed."
It was only recently Brad got to see his kids for the first time since the split.
The two are reportedly sharing custody of the children for the time being, although Angelina has physical custody. He's only allowed to see the children on the condition he is supervised by a therapist.
This, however, is just a short-term solution. Brad is believed to be doing everything in his power to see the kids more regularly.
He's even agreed to take drug and alcohol tests, although ET reports this was not required by LA County Department of Children and Family Services.
A source told US Weekly,
People from both sides hope that the two sides will reach a longer-term agreement on their own. The hope is that this period of time will lead them to be able to resolve things without the involvement of the courts.
Brad's case will be reviewed on October 20.
He has not been spotted since Angelina filed for divorce.
Meanwhile, reports of authorities investigating child abuse claims against Brad rumble on.
It is alleged someone filmed an incident on the tarmac after a heated argument on a plane between Brad and one of his children.
However, Angelina is reported to have zero intention of helping authorities bring any kind of case forward against her ex if they were to build one.
Citations: EXCLUSIVE: Angelina Jolie Spotted for the First Time Since Filing for Divorce From Brad Pitt -- See the Pics (Entertainment Tonight)