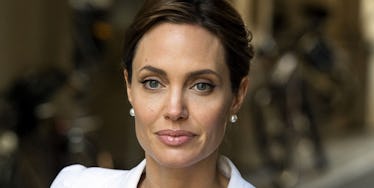 Angelina Jolie Doesn't Want Brad Pitt Prosecuted For Child Abuse 'Incident'
REX/Shutterstock
Angelina Jolie and Brad Pitt's divorce has been anything but clean since they announced it two weeks ago.
Unfortunately, it could get messier.
After an alleged "child abuse" incident, there were talks that Pitt may face criminal charges for supposedly getting physical with his 15-year-old son during a verbal fight on their private jet.
It's alleged that an anonymous witness reported the incident to authorities.
Jolie will go "radio silent" should authorities try to build a case against Pitt, according to TMZ.
She doesn't plan on cooperating with the police because it's not her intention to punish her husband at all.
She just wants to protect her six kids.
It's possible that Pitt came into contact with Maddox on the plane during a drunken, verbal fight.
Some sources say that Jolie told social workers that Pitt struck their son. And some sources claim that Pitt accidentally brushed shoulders with Maddox during an argument.
But we don't know the exact details of the incident. While footage of the incident exists, it has yet to be released.
Some sources speculate that this could have been a typical fight involving a teenager with his parents that got blown out of proportion.
However, their situation might not get that bad.
Maddox didn't have any injuries following the incident, which lowers the chance of prosecution.
And while the LA County Department of Children and Family Services has the authority to weigh in on custody restrictions, it probably won't get to that point.
Currently, Pitt can only visit his children if a therapist is present.
But those visitation parameters are temporary. The two actors are reportedly working toward joint custody in the future.
Both Pitt and Jolie have expressed that they are fully focused on the protection and wellbeing of their children throughout this unfortunate process.
Their kids really do have it the worst.
And I thought my parents' divorce was messy.
Citations: Angelina Jolie: I DON'T WANT BRAD PROSECUTED (TMZ)