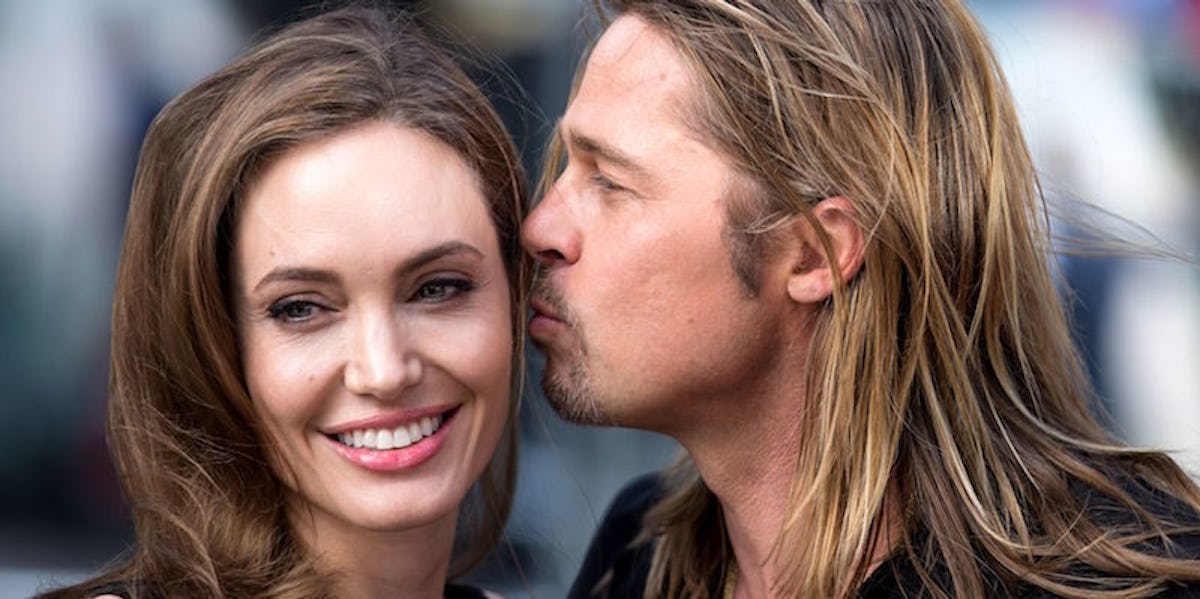 Brad And Angelina Prove Divorce Doesn't Discredit The Love You Shared
REX/Shutterstock
I'm not celebrity-obsessed. I'm Angelina Jolie-obsessed, and I have been since the beginning.
And there has been a massive uproar in the great expanse of the Jolie Universe. My personal icon has officially announced that she's ending her 12-year romance with Brad Pitt.
While I'm most definitely rattled and even a little teary, I'm not heartbroken for them. And it's not just because I've had a debilitating crush on Angelina Jolie since I was 12 years old, or because I single-handedly credit her for allowing me to be open in my lesbian skin.
It's because Angelina Jolie isn't like most actresses. She doesn't teeter on mega heels and giggle on red carpets. She rocks statement tattoos and sexy black leather, and she would prefer to work with refugees in Cambodia over attending vapid Hollywood parties. She's been appointed by the United Nations, for Christ's sake.
It takes a lovely, non-egomaniacal, rare man to not be threatened by a force of a woman like Ms. Angelina Jolie. And not only did Brad Pitt accept her for all that she is, but he also empowered her to do even more. He left his man ego at the door and allowed himself to be empowered by her. 
And the two of them accomplished a hell of a lot during their relationship.
Sometimes, love lasts forever, and sometimes it just doesn't. But despite their divorce, the vast, beautiful array of experiences that Brad and Angelina had together will stay with them forever.
Just because a love ends doesn't mean the beautiful life a couple once shared together is discredited.
Let's take a look at the incredible things Brad and Angelina have done as a couple not only for the world, but also for their children and their own incredible love, that will never be forgotten.
April 2005
Angelina and Brad took an epic trip to Kenya with Jolie's son Maddox. They not only exposed Maddox to the big world, but they also drew attention to the beautiful country of Kenya, a place that depends on tourism for the general health of the country.
October 2006
Brad told Esquire that he and Jolie would "consider tying the knot when everyone else in the country who wants to be married is legally able." The open-minded couple shined a light on marriage equality long before it was "trendy."
May 2006
Angelina gave birth to her biological child with Brad, Shiloh. Days later, Angelina shared with the world why she and Brad decided to have their child in Swakopmund, Namibia, saying,
And when we found out we were pregnant and thinking about where we would want to go, we thought we wanted to find a place that was, a beautiful place that our other children would enjoy [...] And they have had an amazing adventure and have made many friends here. Our son has friends here now so that was why. And also we just love this part of the world. Our other daughter was born in Africa and so this is a special continent for us.
January 2006
Brad officially became a father to Angelina's two children Maddox and Zahara, and their surnames were changed to Jolie-Pitt. This united them as a real family, and they didn't adhere to traditional gender roles of the kids taking the father's last name.
March 2007
After a trip to the Vietnam, Angelina and Brad added a new kid to their already-diverse clan, Pax. The couple was very sensitive about helping Pax adjust to his life in America, but they did so successfully.
August 2008
Brad and Angelina's twin babies Knox and Vivienne graced the cover of People Magazine after being born in Nice, France in July. Angelina made sure all of her children were born in different countries so they all bore different passports, which adds to their general impact on the world.
July 2010
Angelina openly expressed her deep love for Brad in Parade Magazine by saying,
Brad and I love being together. We enjoy it. We need it, and we always find that special time. We stay connected. We talk about it. It's very important. If Brad and I are strong and happy, then our kids have happy parents, and that's the best thing we can give them [...] There's never a period when Brad and I are pulled apart. We are not separated for more than three days, ever. We stay really connected. We actually don't go out much. It's funny. We're very homebound. We're very much Mommy and Daddy in our pajamas.
Angelina and Brad not only do incredible things for the world, but shamelessly speak about how they make their relationship work, which is rare for celebrities.
August 2010
In the August issue of Vanity Fair, Angelina told the world she fully supports her daughter feeling more comfortable dressing and acting more traditionally masculine. In a groundbreaking moment for kids who don't fit perfectly into the neat "girl" and "boy" boxes, she told the magazine,
She likes to dress like a boy. She wants to be a boy. So we had to cut her hair. She likes to wear boys' everything.
August 2014
Brad and Angelina married at their French estate Chateau Miraval. They showed their deep love for their children by having them partially design the dress. They included their children into pivotal parts of their relationship, which is beautiful and rare.
March 2015
Angelina revealed to the New York Times that she underwent surgery to remove her ovaries and fallopian tubes after doctors detected possible signs of early cancer.
Brad stood by her side through her traumatic but very important surgery, and the two shone light on the life-saving issue of early detection to cancer.
September 2016
Angelina filed for divorce from Brad, just weeks after their second wedding anniversary.
Wow, what a life.
Look, as much as the fairytales, romantic comedies, one in a million stories we read about forever love and Lifetime movies we watch when we're depressed at 5 am try to make us feel like true love never dies, that's total bullshit.
Like with Brad and Angelina, real love — the kind that inspires you to take on the world together — fades sometimes, and that's OK. We change and grow as people, and sometimes, we don't change and grow in the same way that our partner does.
I believe most of us will have many great loves through out our lifetimes, each one serving an important purpose in our lives and each person shaping the multifaceted people we inevitably become.
A breakup is like a real death. I know that sounds morbid, but hear me out: You can mourn the loss, you can weep over for what once was and you can even get angry about it. But just because that person died doesn't mean they weren't valid and important to you.
Same exact thing goes for a relationship. The memories from the relationship will live inside of you forever, and you will carry them with you through the rest of your life.