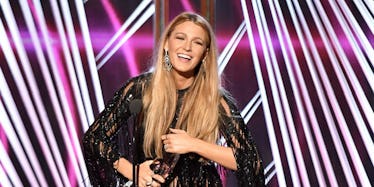 Blake Lively Sets PCAs Fans Straight About Ryan Reynolds: 'You Can't Have Him!'
REX/Shutterstock
Blake Lively and Ryan Reynolds continue to be #RelationshipGoals...
Mainly because I long to tell a theater full of people they can't have my significant other and to step the hell off, too.
The actress entered the People's Choice Awards in LA on Wednesday after walking the red carpet with her older sister Robyn.
Lively was nominated for Favorite Dramatic Movie Actress for her role in "The Shallows."
Obviously, Lively is always a fan favorite, and she took the award. During her energetic acceptance speech, in which she looked a bit adorably flustered by it all, she thanked her mother.
Then, she thanked, as all of us do each night before we rest our weary heads, the Spice Girls.
She credited the band as being her first experience with "Girl Power," which she then said her movie "The Shallows" was all about.
Seriously, how many movies do you know that focus solely on a female character?
And not only is it about a woman, but she literally MURDERS A SHARK WHO HAS BEEN STALKING HER THE ENTIRE MOVIE.
That is truly Girl Power. She said of the Spice Girls,
What's so neat about them is that they were all so distinctively different, and they were women and they owned who they were.
Seriously. Without a bit of irony, I credit the Spice Girls to my belief in feminism to this day.
Lively also said now, more than ever, is a time for women to tell their stories.
It was at the end of her speech when the actress got a bit cheeky with her fans.
Watch @blakelively accept the award for "Favorite Dramatic Movie Actress" #PCAs pic.twitter.com/FAQvOe134k — People's Choice (@peopleschoice) January 19, 2017
She thanked her husband Ryan Reynolds and then told the crowd,
You can't have him! He's mine!
I can only assume she was directly speaking to Andrew Garfield, who made out with Ryan Reynolds at the Golden Globes.
Citations: Blake Lively Jokingly Yells at Fans That They Can't Have Ryan Reynolds (Popsugar)