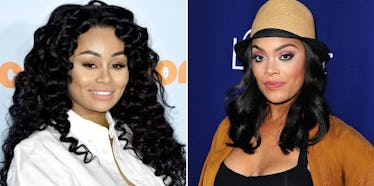 What Does Blac Chyna Think About Rob Kardashian's Rumored New Girlfriend?
Frazer Harrison/Getty Images & Jerod Harris/Getty Images
Everybody, be cool. There's a new girl in town and she does not go by the name of a color or country. She just goes by Mehgan.
News broke today that Rob Kardashian – you know, the one with a bleeding heart, who's obsessed with his daughter, would do anything for Blac Chyna despite their insane fights, clear turmoil and imminent destruction – is reportedly dating reality star Mehgan James and the world is looking at Chyna to see how she feels.
Elite Daily reached out to both Rob and Mehgan's teams for comment on their relationship status but did not hear back by time of publication.
My guess is Blac Chyna doesn't give one little F, BUT, this is the same girl who threw Rob's apology flowers into a pool and kicked him out on national television... plus that whole thing where she packed up and moved in the night leaving to him make this really sad video, so who knows.
The two first got together when Chyna helped welcome Rob back to the world after years of hiding on his sisters' famous show, KUWTK, and we all thought for a brief moment, "Hey, this might work out."
What instead pursued was years of wild ups and downs, a bizarre reality TV spin-off, an on-again off-again engagement, and ultimately a pretty public breakup.
Fans had hoped the two would be able to make it work, and eventually reveal a happy, healthy, functional family.
But alas, a source close to Rob and Chyna told People magazine,
Chyna is super fed up with Rob and thinks he is way too emotional and depressed. She thinks he has terrible issues. He is always battling his own insecurities and is unstable. It's a major turn-off to her, and she thinks it's incredibly unhealthy for the baby and their family.
Now, Rob is reportedly dating reality star Mehgan James just a day after posting touching throwback photos of Chyna, which have since been deleted, and we wonder if she is changing her tune.
Mehgan, 27, has previously been seen on Oxygen's Bad Girl's Club an VH1's Basketball Wives LA. A source for her told People she is "living for this moment right now," and that her and Rob have been "really close friends for about three months."
Hm-hm. Chyna's been there, done that.
Do we smell a spin-off in the works?
Citations: Rob Kardashian Is Dating Reality Star Mehgan James (People)