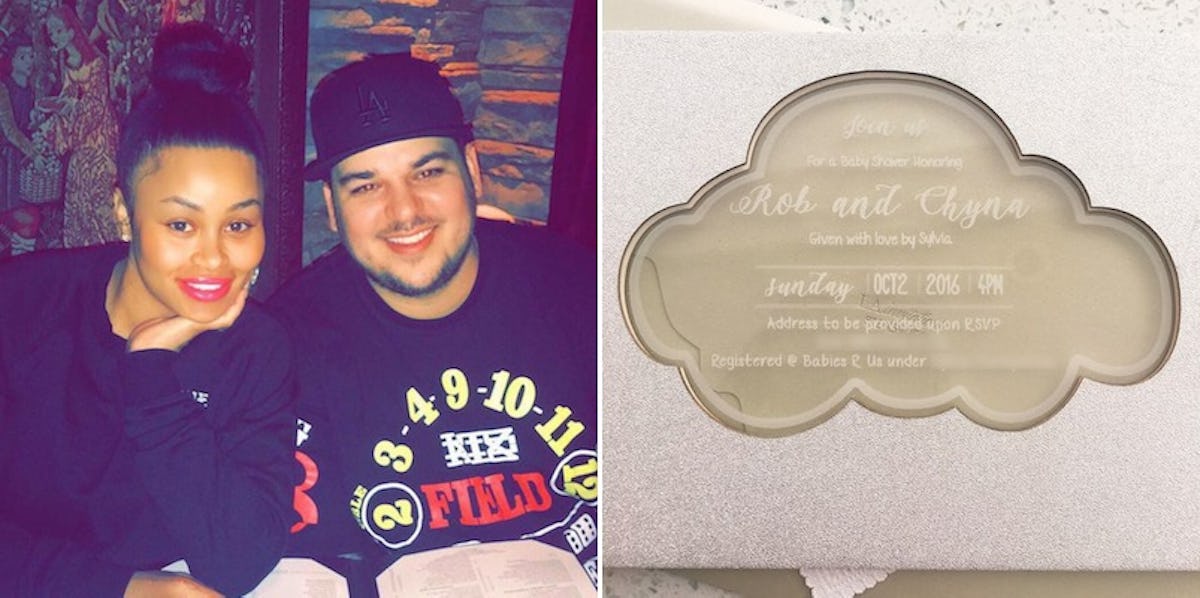 Rob Kardashian And Blac Chyna Made Their Baby Shower Official With Invitations
Instagram
It's official -- a date has been set for Blac Chyna and Rob Kardashian's highly-anticipated baby shower.
If you've been keeping up with this particular Kardashian, you know Rob's been dealing with some major drama surrounding his baby shower after Kylie Jenner and the rest of his sisters reportedly organized a baby shower for Rob and didn't invite Blac Chyna.
With Rob and Chyna fighting constantly, the engaged couple was said to not be on "good terms." For that reason, Kylie had allegedly planned to throw two separate baby showers -- one for Chyna and one for Rob.
Only, Rob took things the wrong way when he thought his fiancée was shunned from the festivities celebrating her own child. That's when, out of pure anger, Rob Kardashian decided to leak Kylie Jenner's actual phone number to his 6 million followers on Twitter.
New details surfacing indicate that Rob and Chyna have finally confirmed a date and location for their official baby shower, which they'll BOTH be attending... And it's this weekend.
According to US Weekly, nearly 60 guests will congregate in Woodland Hills, California -- and out of those 60 guests, it doesn't look like any of the Kardashian sisters were invited.
That's gotta sting!
The report also states that one of Blac Chyna's best friends, Sylvia Karapetian, will be hosting the event.
An inside source spoke to the magazine, saying,
There will be lots and lots of flowers. The theme is neutral — lots of whites and grays and greens. There will be lots of music and food and drinks.
Yup, sounds like a baby shower to me.
US Weekly obtained proof that Rob Kardashian and Blac Chyna are making things official with these fancy invitations (which, apparently, none of the Kardashian sisters received).
The festivities are set for Sunday, October 2 at 4 pm.
As for the pre-planned baby shower the Kardashian sisters were attempting to throw for Rob Kardashian? It never happened because Rob never showed up to put the drama to rest.
Rob eventually found out that the baby shower they had organized for him was actually for an episode of "Keeping Up With The Kardashians" and that's when he literally said "f*ck that" and wound up not going (neither did Chyna).
It'd be pretty wild if NONE of his own sisters got to attend his baby shower but the date is set. I guess we'll just have to see what happens.
The dysfunction continues!
Citations: See Blac Chyna, Rob Kardashian's New Baby Shower Invite (No, Not THAT Shower) — Guess Who's Not Invited? (US Magazine)