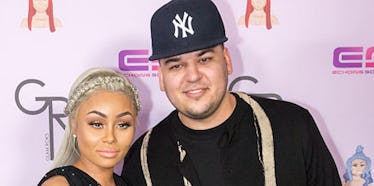 Blac Chyna Wants A Restraining Order Against Rob Kardashian, According To Her Lawyer's Tweets
Greg Doherty/Getty Images
The drama between Rob Kardashian and Blac Chyna has flooded the media over the past two days and doesn't show signs of slowing down soon.
Kardashian spread revenge porn of Chyna all over Instagram and Twitter, claiming she had been cheating on him, in addition to other negative claims about the mother of his child.
Elite Daily reached out to Rob Kardashian and Blac Chyna for comment and did not hear back by the time of publication.
The most recent update we have in the scandal comes from a tweet from Blac Chyna's lawyer, Lisa Bloom.
On July 7, Bloom tweeted,
The tweet reads:
I represent Blac Chyna. I just gave Rob Kardashian notice that we'll be in court Monday seeking restraining orders against him. More to come.
Two days ago, another one of Chyna's attorneys, Walter Mosley, said in a statement to People, "I am exploring all legal remedies and protections available to my client at this time in attempts to best advise her on how she may want to proceed."
These "legal remedies" will certainly come into play, as California has strict laws on revenge porn, according to the Cyber Civil Rights Initiative.
In Kardashian's home state of California, the law on posting revenge porn was amended in 2014 and states,
This bill would instead provide that a person who intentionally distributes an image, as described, of the intimate body part or parts, as defined, of another identifiable person, or an image of the person depicted engaging in specified sexual acts, under circumstances in which the persons agree or understand that the image remain private, the person distributing the image knows or should know that distribution of the image will cause serious emotional distress, and the person depicted suffers that distress, is guilty of disorderly conduct. The bill would also provide that it is not a violation of this provision to distribute the image under certain circumstances, including where the distribution is made in the course of reporting an unlawful activity. The bill makes other technical and clarifying changes. Because this bill would broaden the scope of a crime, it would impose a state-mandated local program.
At this point, it should come as no surprise that Blac Chyna is seeking legal remedies. Let's just hope the drama (and flooding of our timelines) stops sooner rather than later.