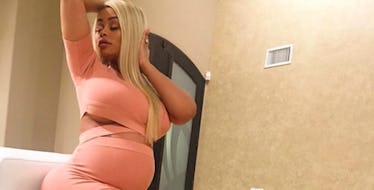 Blac Chyna Is Halfway To Her Goal Of Gaining 100 Pounds During Her Pregnancy
Sometimes when I look in the mirror, I can't tell if I'm pregnant or if there's just a food baby inside of me.
It's been years since I've felt the touch of a man, so scientifically speaking the former isn't possible.
I guess I don't understand what it's like to be pregnant because I never have been, but I do know what it's like to gain a shit ton of weight. (I love bread and butter, fight me.)
My girl Blac Chyna is currently pregnant AND gaining weight, so she's the expert in both departments.
If I were carrying a life inside of me and eating for two, I'd be eating double the amount of food I eat now. My little baby would leave the womb with a burger in one hand and a slice of pizza in the other.
Blac Chyna is super open about how much weight she's gained during her second pregnancy, which is admirable AF. She is my pregnant princess whom I look up to and aspire to become.
On Snapchat, the reality star shared she weighs 183 pounds and is "loving it!" That means she gained a total of 48 pounds so far.
She later wrote,
My goal weight after the baby will be 130lbs – I was 135lbs b4 the baby. I truly believe I will be 200lbs when I delivery that's 17lbs away.
DAMN, MAMA. It sounds like Blac Chyna's pretty much on a mission to gain 100 pounds. In fact, she previously stated,
My goal is to gain, like, 100 pounds this pregnancy. Imma tear it up, then Imma snap back.
Mad respect, yo. You're basically halfway there!
After having her baby, Chyna knows what she'll have to do to lose the weight. On Snapchat, she wrote,
Strict diet/ Waist training/ Detox tea/ Working out.
HEY, Blac Chyna should try Kylie Jenner's favorite teatox! I tried it and lost 15 pounds, no joke.
Chyna, thank you for always giving zero fucks. Let's put our pregnant bellies together and go ham on a bucket of wings. My treat.
Citations: Blac Cyna Weight Gain (Entertainment Tonight)