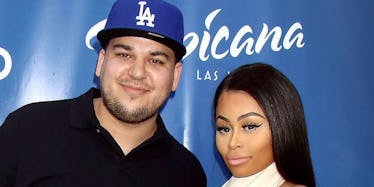 Blac Chyna Played Us All: Leaking Rob Kardashian's Number Was Planned
REX/Shutterstock
Blac Chyna is a devious genius when it comes to dealing with Rob Kardashian.
Let's be real for a second, Angela was a godsend when it comes to Rob. He was overweight, depressed, a weird hermit and heading down a path that had no good potential ending.
Then Blac Chyna came along, and he got his act together. He lost the weight and is in a clearly better headspace than he was even a year ago.
That doesn't mean they are the perfect couple, though. Literally just watch any two minutes of "Rob & Chyna."
So it wasn't a shock when Angie crossed the line and tweeted out Rob's personal cell phone number on Thursday in an attempt to get him to "STOP TEXTING BITCHES!" (her words not mine).
As much as this seems like a low-blow, even for Blac Chyna's standards, it turns out this stunt was probably more pre-planned than anything else.
A source close to the family told Us Weekly,
It was time... All of these old friends and girls Rob had cut out of his life a long time ago kept popping up and texting him. Chyna was over it. She had been trying to get him to change his number for a while.
The source went on to say,
It was all set up for him to have already switched to the new number when she blasted out the old one. They planned it, Chyna convinced him it was time to clean house and get a new number.
Yup, think of this move as a forced life restart more than anything else. Like Control + ALT + Deleting Rob's entire past.
Blac Chyna talked about her genius plan on Snapchat on Thursday.
In the story, the future Kardashian baby momma said,
Get your number changed, thank you! And to all these females wanna keep texting his phone 'cause they had his number before, talking about 'You good? You and Chyna good?' Naw, we good! We good. We straight, all right?
A clearly somewhat broken Rob responded,
Feels good.
Just to recap: Blac Chyna tweeted Rob's phone number out so a billion people would call it, forcing him to get rid of his old phone and contacts so he would stop texting other women.
That is the most diabolical Claire Underwood-level shit I've ever seen.
Blac Chyna is an evil freaking genius.
Citations: Rob Kardashian Blac Chyna Planned for Her to Tweet His Phone Number (Us Weekly)