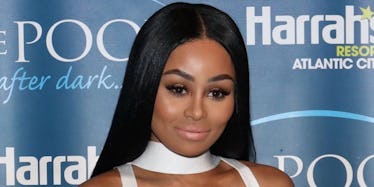 Blac Chyna May Have A New Boyfriend, According To This New Video
Tom Briglia/Getty Images
It seems like Blac Chyna has moved on from all of the Rob Kardashian drama and is dating someone new.
TMZ reports Chyna was seen walking to and getting into her car with a new bae on the evening of June 5, and when the paparazzi asked if the man with her was her boyfriend, she said, "Yeah, tell them, like, we're dating." The man hasn't been identified.
This comes just a week after all of the Rob Kardashian and Mehgan James dating rumors that are reportedly false.
It was reported last week that Rob Kardashian had been dating reality star Mehgan James for about three months, but Rob later tweeted that he's never met James in his life, and James retweeted it in addition to posting her own comments on Instagram.
In the video from TMZ, Chyna says she's a "real-a** b*tch" when talking to one of the paparazzi. She said,
People say paparazzi, they're the worst people in America! Actually, [paparazzi] keep you in the game. So all that facade sh*t, I'm not with it. I'm a real-a** b*tch.
Is Blac Chyna calling herself "real" a clapback at Rob's fake relationship news from last week? She never officially responded to all of the controversy around the story.
Rob and Chyna broke off their engagement in April 2017 after being together for about a year and having a daughter, Dream, together in 2016.
Just last week, however, before all of this Mehgan James news started swirling around, Rob posted a since-deleted Instagram dedicated to Blac Chyna. He even said he loves Chyna in the post. The caption read,
On my first episode of Rob's Random Cornball Thoughts is This young lady who grew up to be the woman I love and the mother of my child. She is beautiful and gave me my first child. @blacchyna.
This implied Rob and Chyna were, like, maybe still together? Possibly behind the scenes? But then the Mehgan James story broke and now we have Chyna saying she's in a new relationship.
So, I'm going to go ahead and assume that Rob is single, Mehgan James is single, and — as evidenced by Rob's absence at her birthday party and her being totally fine with it — Blac Chyna doesn't care about any of it and is happily dating her new guy.
Citations: BLAC CHYNA I'M A REAL ASS BITCH ... And Here's My New Bae! (TMZ)