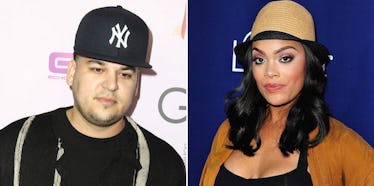 Rob Kardashian Shut Down Rumors He's Dating Mehgan James In One Single Tweet
Leon Bennett/Jerod Harris/Getty Images
Remember how Rob Kardashian's rumored relationship with Mehgan James dominated, like, all of social media yesterday? Well, now he's shutting all that talk down by letting fans know he's not dating Mehgan, and also doesn't even know who she is.
Uhhhhh, OK.
Rob Kardashian sent this tweet out last night shutting down all the dating rumors that were spreading about his "relationship" with the reality TV star:
The tweet reads,
Wait reading online about some chick I'm dating Megan something. Not true never even met her or heard of her before
Fans were quick to pull out some receipts on him, but, like, Mehgan James herself retweeted his tweet. So...
In case you missed it, it was reported yesterday that Rob Kardashian has been dating Mehgan James, a reality TV star who has been on Bad Girls Club and Basketball Wives LA.
A source told People,
Mehgan's been supporting Rob and his business for some time now. They've been really close friends for about three months.
They added,
Mehgan is living for this moment right now.
Uhhhh, is the moment over then? I feel like the moment might be over.
Actually, the moment never even existed, because in addition to retweeting Rob's tweet from last night, Mehgan James posted on Instagram early Friday morning confirming what Rob was saying: They're not dating.
James posted an image on her Instagram that read, "Note to self, stay true to self."
She completely shuts down the dating rumors in the caption. It reads,
Before any of you start defaming my character .. I'm CLEARLY not daitng rob , nor have I ever confirmed that I was. You all just so happen to believe everything you read. I posted one pair of Arthur George socks 2/3 weeks ago & now all of a sudden I'm a home wrecker, a fraud , a hoe... etc . I do not control the media , BUT we all know who has the media on their payroll. Sooo... don't point any fingers this way ! I'm just " Megan something . " that most of you " never heard of" . I don't have that type of power. I was just as confused as anyone else and was told not to even entertain it.
She had posted a couple of pictures of Rob's Arthur George socks — and also tagged Rob in the pictures — back in May, prompting people to believe that was confirmation of their relationship.
But unless this is an elaborate plan to keep their relationship secret for a little longer, then it looks like Rob Kardashian and Mehgan James are not in a relationship.
Citations: Rob Kardashian Denies Dating Mehgan James on Twitter — and She Retweets It (People)