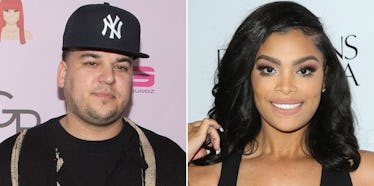 How Did Rob Kardashian And Mehgan James Meet? Here's What We Know
Gabriel Olsen/Paul Arculetta/Getty Images
It looks like Dream Kardashian's parents have called it quits for good now that Rob Kardashian is reportedly dating Mehgan James.
Sorry to all of you Rob & Chyna fans out there hoping for a second season. I don't think Mama Kris will be down to change the name to Rob & His New Girlfriend Who Seems Nice But We Don't Know Much About Her Life Yet.
(But also, Kris, if you're into that name, you can DM me.)
What we know about Mehgan so far is that she's a reality TV star who's been featured on Bad Girls Club and VH1's Basketball Wives LA. Since she's from Houston, Texas, she was known on Bad Girls Club as "Texas Temptation."
But how did the Texas Temptation and the only male Kardashian meet? A source told People,
Mehgan's been supporting Rob and his business for some time now. They've been really close friends for about three months.
Does "quite some time" really equate to three months? I guess so... The source also told People Mehgan is "living for this moment right now."
Rob Kardashian's business is clothing line Arthur George, a company that sells socks (among other things) that Mehgan apparently loves. She also appears to be a big fan of the Kardashians, considering the caption she penned with this Instagram post on May 17:
The caption reads,
MY bestfriend knows I love socks & The Kardashians. So she got me a 2 in one #arthurgeorge
So it looks like Rob and Mehgan started out as supportive friends, and that friendship then reportedly turned into a romance. Which, props to Rob, is a v healthy way to start a relationship! Maybe this one will work out.
But then again, maybe it won't. A source told In Touch the Kardashian women reportedly do not approve of Rob's new relationship one bit. Mehgan has reportedly been introduced to Khloé Kardashian, but the rest of the family is refusing to meet her.
The source told In Touch,
Rob's been seeing Mehgan James for almost three months, and most of the Kardashians are very upset about it because Mehgan is known for being out of control and volatile. The Kardashians want Rob to find a woman who is kind and calm.
I mean, James was kicked off of Bad Girls Club for picking fights with other cast members. In Touch also reports that James might "hungry for fame" and using Rob to serve that hunger.
She's been on a long string of reality shows, the first one being MTV's 50 Cent: The Money and the Power. She was on Bad Girls Club in 2012, Basketball Wives LA in 2015 as a result of her relationship with ex-Celtics and 76ers player Kedrick Brown, and she'll be seen on the upcoming season of Marriage Bootcamp: Reality Stars.
So yeah, it's safe to say this woman likes her reality TV. The source told In Touch, "Mehgan is trouble, and is the last thing Rob needs right now."
Yikes. I guess we'll have to wait and see what happens!
Citations: Rob Kardashian Is Dating Reality Star Mehgan James (People), Rob Kardashian Has a New Girlfriend and His Family Does Not Approve! (EXCLUSIVE) (In Touch)