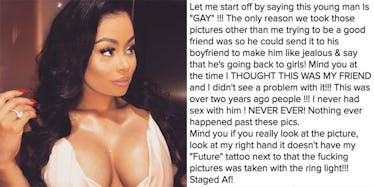 Blac Chyna Blasts Guy On Insta For Pretending To Be Baby Daddy: 'Stop Lying!'
Instagram
Blac Chyna has receipts.  The reality TV star unloaded on a former friend for "pretending" to be the real father of her soon-to-be-born daughter.
In response to rumors that she cheated on Rob Kardashian with singer Pilot Jones, Blac Chyna wrote,
Let me start off by saying this young man Is 'GAY' !!! The only reason we took those pictures other than me trying to be a good friend was so he could send it to his boyfriend to make him like jealous & say that he's going back to girls! Mind you at the time I THOUGHT THIS WAS MY FRIEND and I didn't see a problem with it!!!
She posted her long rant on Instagram along with screenshots of an apparent conversation between her, Rob Kardashian and Jones himself.
In the photos of the text conversation, Chyna seemingly warns Jones that she was going to "expose" him for sending pictures to gossip site Radar Online.
And based on her two Instagram posts from Thursday afternoon, she didn't hold back when it was time to live up to that promise.
Simply put: Blac Chyna dragged this man, first, by asserting that the picture was taken two years ago and second, by saying she would never have sex with him because he's "nasty."
LOL.
But if Jones really is lying and purposefully tried to cause a rift in Rob and Chyna's relationship, you already know what the next question is: Why?
According to Chyna, the answer, as always, is money.
She wrote,
Your greedy ass wanted a cut of something that wasn't yours and u came at my lawyer asking for crazy money !!! U really mad ?!?! Like you really stooped this low ?!?! Coming for a Bitch that's due in a few days ! Really trying to start beef with my Fiancé !!! Your a fucking joke !
To elaborate, Chyna said that Jones wanted a cut out of the deal she made for an emoji app. And in her second Instagram post, she shared pictures of an email that appears to show proof Jones was plotting in that regard.
Damn.
It's no wonder Rob wanted to fight this man.
Moral of the story? Don't mess with Blac Chyna.