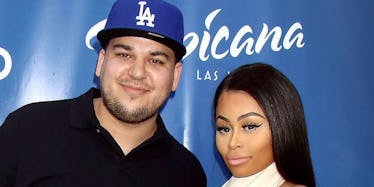 Rob Kardashian Is Being Investigated For Threatening Blac Chyna's Ex
REX/Shutterstock
Rob Kardashian is reportedly under investigation after he allegedly threatened singer Pilot Jones.
TMZ is reporting a source inside the law enforcement community is claiming the investigation was opened over allegations Kardashian threatened to physically harm Jones, who has history with Blac Chyna and has reportedly been recently hanging with the future Mrs. Kardashian.
Pilot was allegedly spooked by several threats, one of which was from a series of text messages Rob reportedly sent him that said,
Leave my wife alone. I'm not playing with you.
The law enforcement source says there are other text messages in which Rob threatens to hurt Jones if he doesn't keep his distance from Chyna, who is currently pregnant with Rob's baby.
The allegation may not be as bad as it seems, though. Another inside source says these texts do exist, but they're "a little murky and general."
The investigation is being handled by the LAPD's Threat Management Unit.
The allegations brought against Kardashian come days after pictures surfaced online of Chyna and Jones kissing.
It's unclear when exactly these pictures were taken, though we do know Chyna met Jones before she started dating Rob. It's possible the pictures of them hooking up were taken while she and Rob were on one of their many, many, many breaks over the past year.
A different inside source, however, told The Sun it's much more than just casual hangs, saying,
They even started to develop feelings too! It was a flirty type of relationship, and they hung out every day.
This relationship supposedly got to the point where Chyna needed to take a paternity test when she got pregnant to make sure it was Rob's baby and not Pilot's.
Pilot's reps have denied these rumors, though, saying Jones and Chyna were just friends.
Note to self, don't get on Rob Kardashian's bad side.
Citations: ROB KARDASHIAN SUSPECT IN CRIMINAL THREAT INVESTIGATION (TMZ)