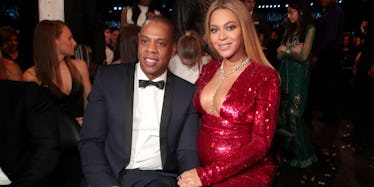 What Are Beyoncé's Twins' Middle Names? The World Is Anxious To Know
Getty Images
The world has finally not only been blessed with Queen Bey's two beautiful twins, but their incredible names have now finally been made public.
According to TMZ, Beyoncé and JAY-Z have reportedly named their twins Rumi and Sir Carter.
Despite previous rumors stating the couple named their twins Bea and Shawn, it seems safe to go with the assumption that the little ones have, indeed, been named Rumi and Sir, as Bey and JAY's company – the one that deals with trademarks for their names – moved to file for the rights to those names, TMZ reports.
But now, the mystery remains as to what their middle names will be.
Elite Daily reached out to Beyoncé and JAY-Z's reps for comment on the reported names, but did not hear back at time of publication.
As far as the twins' first names go, you could say people are kind of losing their sh*t over the news.
Hate all you want, guys, but the meanings behind these names are honestly dope AF.
Sir, of course, is basically a universally known term of respect, and who deserves more respect than the offspring of the most majestic creatures to ever grace the world of pop culture, let alone, like, the rest of the world?
Rumi's name, on the other hand, could be interpreted in a variety of different ways.
The name has both Indian and Japanese origins, and it also happens to be the name of a famous Persian poet.
So, clearly, both babies are destined for pure greatness (I mean, you already knew that, duh).
Of course, Beyoncé and JAY-Z's oldest daughter, the 5-year-old adorable Blue, was given the middle name "Ivy," which is honestly as effortlessly cool and beautiful as the whole Carter family themselves.
I can only imagine, then, the unique middle names that will be bestowed upon Sir and Rumi.
I mean, let's be real here, as far as the little guy is concerned, that kid's name is going to sound majestic and important AF, no matter what comes between "Sir" and "Carter."
Seriously, I'm telling you, his middle name could be "eats-a-lot," and not only would the world eat it up (ha ha, I hate me, too), but he'd still sound like someone I'm required to greet by getting down on one knee and bowing my head in honor.
He was basically already born into royalty, so it's only fitting that his name reflects that, too.
As for Rumi, I'm honestly in love with her name.
It's different, it's beautiful, and it kind of leaves a chill running down my spine every time I read it (perhaps that's my undying love for Bey leaking over into any and every other aspect of my life, but like, stop judging me).
Whatever the Carters choose for their twins' middle names, one thing is for certain: This whole royal family will continue to rule the world of pop culture.