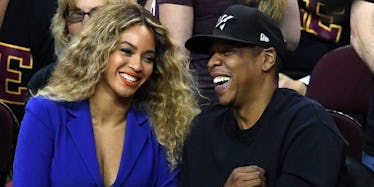 Beyoncé Went On A Romantic Date Night With JAY-Z And Looks Stunning – PHOTOS
Getty
All parents need a night out, even when you're JAY-Z and Beyoncé. The two were spotted out in West Hollywood having dinner, and could not have looked more normal. Well, except for the fact that they are basically gods walking among us. The photos of Beyoncé and JAY-Z's date night are super sweet and it looks like they had a great time, probably. I mean, how could you not have a great time when you are super fabulous and basically run Hollywood?
The pair went to Sushi Park, a very hot restaurant in the L.A. food scene, to grab dinner. According to Entertainment Tonight, they arrived at the restaurant around 9:45 p.m. Call me old-fashioned, but that is a late dinner. Was Beyoncé hangry? Did they have to put the kids to bed first? It's not good to eat a big meal before bed. I just have a lot of feelings.
Reportedly, Bey and Jay-Z were chauffeured to the restaurant by their driver and arrived with two bodyguards. The photos show the Mr. and Mrs. being very affectionate. JAY-Z is seen rubbing his wife's back while the two walk.
According to an eyewitness, "They appeared to be very happy and full of smiles."
JAY-Z and Beyoncé showed a very tasteful amount of PDA.
It's good to see the couple out and having a good time. Beyoncé gave birth to their twins, Sir Carter and Rumi, in June. From what I've heard, parenting is no joke and keeps you pretty busy. However, it seems like they are enjoying the ride.
According to Beyoncé's mother, Tina Knowles, their oldest daughter, Blue Ivy Carter, has taken quite well to being a big sis. Knowles said Blue Ivy can't get enough of the twins. "She's proud and very excited ... She's a good big sister, she really is." So sweet.
Glad to see the fam is doing well. I hope Beyoncé and JAY-Z have many more happy date nights in their future.