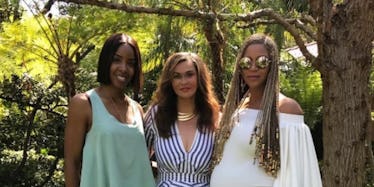 Beyoncé Looks Amazing Showing Off Her Baby Bump In Easter Pics
Instagram
There's at least one person who was happy that Beyoncé didn't perform at Coachella this weekend: her mom.
And that's because instead of sweating it out in the desert with wannabe hippies, Bey got to stay home and have a nice Easter with her mom, Tina Lawson.
Tina was obviously thrilled to have a family Easter gathering in Los Angeles this Sunday, and posted some pics on Instagram to document the occasion.
She wrote in the caption,
3/4th of my girls. Missing 1/4 at Cochella.  My Solo Bianca
In the photo, the 63-year-old businesswoman posed with her daughter, Beyoncé, and her unofficial adopted daughter, Kelly Rowland.
I'm assuming her stepdaughter, Bianca Lawson, was either taking the photo or somewhere in the background, and Bey's sister, Solange, was off with those hippies in the desert.
But for the most part, the whole fam was there for what looks like a very classy Easter brunch.
Tina even shared a sweet Easter message in an Instagram video.
"Happy Easter everyone," she said. "I hope you're having a great day. I'm here with my family having a great time."
OK, but rich people Easter festivities aside, can we talk about how pregnant Beyoncé looks?
I mean, she also looks amazing, but damn. That's a baby bump to end all baby bumps.
No wonder she didn't want to go all the way to Coachella — I wouldn't move, ever, if I were her.
The 35-year-old singer announced in February that she and her husband, Jay Z, were expecting twins.
According to a gynecologist Elite Daily spoke to, Bey is likely to give birth around mid-May.
But according to the above photo, it looks to me like the queen is about to pop any second.
Everyone, start placing your bets on when the royal birthing will go down. Blue Ivy is about to become a big sister any week now!