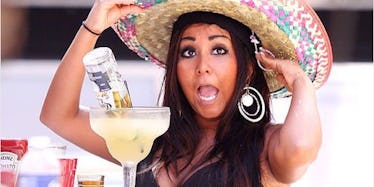 12 Best Snooki Moments The Party Girl In All Of Us Will Always Hold On To
MTV
If you miss watching OG party girl Snooki on "Jersey Shore," you're certainly not alone.
Snooki is (undeniably) one of a kind. And to be honest, I don't think anyone loved eating pickles and rocking a high pouf more than her.
Her pouf was so on point, a solid argument could be made about why it deserved a TV show all of its own… but I digress.
From not giving two fucks about wearing her fuzzy slippers on the boardwalk, to being the wild party girl we all loved on screen, Snooks constantly brought something downright ridiculous and hilarious to "Jersey Shore."
Obviously, I have to show major loving to the rest of the Seaside Heights crew, too, because I have a soft spot for GTL and family dinner days. BUT, it's clear Snooks totally stole the show.
No one crushed the bar scene (or turned UP) like Snooki did. She made her way into our hearts, because she's the OG.
Here are 12 best Snooki moments the party girl in all of us will always relate to.
"Even though we're tiny bitches, I don't give a sh*t. I will f*cking attack you like a squirrel monkey."
"These are the things I think I'm addicted to: bronzer, boys, and alcohol."
"This isn't law school, this is a t-shirt shop."
"When I see everyone drinking with me it's like Hallelujah, Hallelujah!"
"Say you're stuck in the cornfields and you have to eat it. That's not bad."
"I don't care if you talk shit about me. Talk shit about me all you want, but if you talk about my girls, my boyfriend or my family, that's when I'm going to fuck you up."
"You're going to have haters and you're going to have lovers."
"Alright, I'll make you a grilled cheese, asshole."
"So, you know, fuck you, alcohol."
"I look like a hot drunk baseball player right now and I'm lovin' it. BATTER UP, BITCHES!"
"Pickles is my thing."
"I look over and I see like hair being pulled and all this shit, I'm like oh my god, how do I get in?"