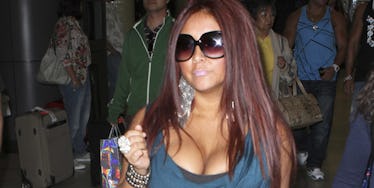 You Won't Believe What Snooki From 'Jersey Shore' Looks Like Now
Shutterstock
We could always count on our main girl Nicole Polizzi, AKA Snooki from the "Jersey Shore" to get the party started in Seaside Heights.
Who could forget those funky slippers (props to her for rocking them on the boardwalk like it's NBD), crazy hair pouf and constant tan.
I don't think I ever spotted a pale Snooki back in the day.
From family dinners, ongoing drama, fist pumping and a ton of GTL (for those of you who don't remember Gym, Tan, Laundry — LOW-KEY giving you some serious shade rn), the "Jersey Shore" squad always gave us something outrageous to look forward to.
To refresh your memory, here's the crew...
The Situation (gotta love him), DJ Pauly D, Sammi Sweetheart, JWoww, Ronnie, Vinny and Angelina.
Obviously, I have to give Snooki's outfit a little shoutout here to make you super ~nostalgic~.
Following her "Jersey Shore" days, Snooki's look has seriously changed.
She works out like a total boss…
…And apparently she invested in lip injections.
Here's our gal casually slaying it in open-toed booties like the street is her personal runway.
Look at her rocking that choker being all trendy.
She's a proud Mama…
…And she's obviously still up to crazy shenanigans with forever bestie, JWoww.
Looking super grunge chic, Snooks.
Real talk: Did you ever think you would see Snooki rocking a flannel (non-cheetah printed) shirt tied around her waist?!
Her hair is looking pretty fabulous…
…And her shoe game is so strong I really can't handle it.
While all of this is sinking in, enjoy Snooki's very first music video she released called, "Yung Mommy"... because she's in the music biz now.