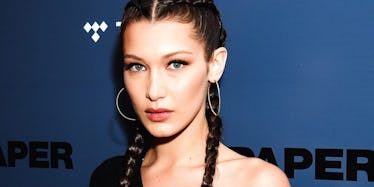 Bella Hadid Looks Unrecognizable With Her New Bold Bangs
REX/Shutterstock
Bella Hadid is saying peace out to 2016 by starting this year off with a totally different look.
It may sound a tad cliché, but I am a firm believer it's an awesome way to begin a new year with a fresh outlook on, well, life itself.
We reflect on the past year as we make resolutions for ourselves, whatever they may be. Some of us set health and fitness goals, while others may want to make a career change or save money to feed their wanderlust.
When it comes to the 2017 style game, there's already a ton of buzz about hot new trends… and Bella Hadid is a prime example.
Six days into the new year, and she already shut it DOWN.
There's something about changing up your hairstyle that makes a gal feel confident AF, like she can conquer the entire world. New year, bring on the new 'do.
Unlike Kylie Jenner, this 20-year-old fashion model isn't one to switch up her hairstyle or color on the reg. But when she does, Bella embraces her new bombshell 'do like an absolute boss.
Remember when Bella dyed her hair light pink this summer and was basically twinning goals with her sister Gigi Hadid?
It's safe to say she #CrushedIt and made such a statement with her beach waves. They were ALL the rage, so much I wanted to casually run out of my house and get my hair colored to look like a summer goddess ASAP.
And now, Bella has done it yet again.
Bella Hadid took to Instagram this afternoon to show off her fierce bangs to the world… and let's just say she certainly made a epic statement.
Bella, girl, you literally look like a goddess who just stepped out from the '70's. These bangs are so bold and look incredible.
I'm totally digging that chic pink ensemble, too.
Citations: Bella Hadid Just Got Some Seriously Intense Bangs (Refinery29)