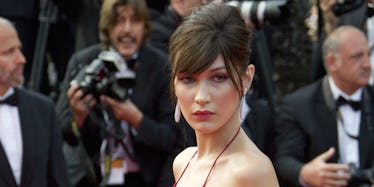 Bella Hadid Just Got A Makeover And Is Basically Gigi's Twin
REX/Shuttershock
Let's be real here: When don't the Hadid sisters look completely amazing? I think we can all agree they constantly slay in looks, fashion… and, well, life.
Gigi and Bella are truly sister and BFF goals, and we all know it.
Bella Hadid just posted a picture of her new hair on Instagram and, let me tell you, it's straight FIRE. Come on, look at this, just take it all in.
She looks SO MUCH like Gigi with this new summer 'do, but she crushes it with her own personal touch.
Hey there, Gig... you gals are the definition of twinning goals now.
I'm completely obsessed and love the hair, Bella! You rock that look, girlfriend. Let's hope for a Hadid-sister selfie later tonight to make all our wildest dreams come true.
Bella, your hair color is striking and perfect for beaching it this summer, not that it didn't look truly amazing before. But, hey, who doesn't love a change to spice things up a bit and have fun? This was a perfect solution, and being a dark-haired gal myself, I can totally relate.
B, you crush it. Your new hair is super bold, gorgeous and beautiful AF.
BRB, going to dye my hair now. BYE!